Forth Bridge Hailed
21 August 2017, 07:25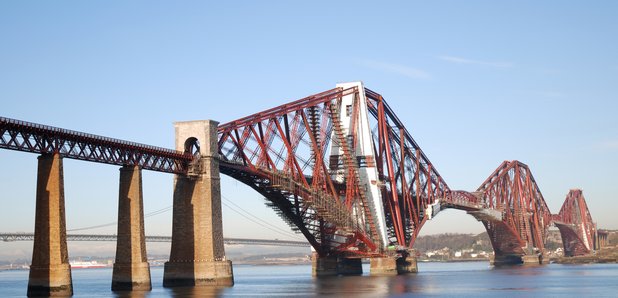 Scottish Transport Minister Humza Yousaf has claimed "nobody can hold a candle" to Scotland's bridges after unveiling a plaque commemorating the Forth Bridge's world heritage status.
Construction of the railway crossing was completed in 1890 after eight years of labour.
In 2015, it was given the Unesco recognition to confirm the historic structure's position as a feat of engineering.
The unveiling comes less than two weeks ahead of the opening of the nearby Queensferry Crossing.
Mr Yousaf said: "The plaque really is a great honour for me to be able to unveil.
"I'm unveiling the Unesco world heritage inscription that was received back in 2015.
"Today is definitely the right day to unveil that of course, because we have the Queensferry Crossing in less than a couple of weeks.
"That just adds, again, to the iconic nature of the bridges.
"People of course want to come down and see it as a tourist attraction, now knowing it's a world heritage site, I think that will attract even more people to come and see it."
The Forth Bridges Forum is tasked with overseeing the structure's maintenance.
Network Councils, Historic Environment Scotland, Transport Scotland, City of Edinburgh Council, Fife Council and VisitScotland are all part of the group.
They share a collective responsibility to protect the "outstanding universal value" of the bridge.
Malcolm Roughead, chief executive of VisitScotland, said: "The Forth Bridge is one of the world's most instantly recognisable bridges and a true marvel of Scottish engineering.
"It was fantastic to see it awarded world heritage status and this plaque is an excellent commemoration for all the hard work put in to achieve this."
The Queensferry Crossing will open to traffic on Wednesday August 30 with an initial 40mph limit.
This is to allow work to take place on the Forth Road Bridge (FRB) to complete its transformation into an active travel corridor.
When the work is complete, public transport will be switched on to the FRB and the Queensferry Crossing will be given motorway status.
Mr Yousaf added: "All three bridges have their own unique, iconic nature.
"I was recently overseas, I had a holiday away, and I was looking at some of the bridges where I was in Istanbul and I have to say, the bridges here: nobody can hold a candle to them."