Forties Pipeline Repairs To Last Weeks
12 December 2017, 15:24 | Updated: 12 December 2017, 15:26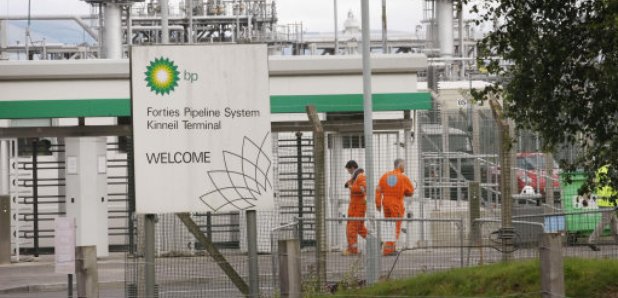 Repairs to the Forties pipeline, which carries 40% of North Sea oil and gas, could take up to three weeks, operators have said.
The pipeline has been shut to repair a crack in the pipe which was discovered last week during a routine inspection south of Aberdeen.
Operators Ineos said the repair would be more complicated than first thought as the crack was propagating.
They said the impact for customers would be very significant but the domestic market was not likely to be much affected.
Andrew Gardner, chief executive of the Ineos Forties Pipeline System, said workers found a hairline crack in the pipe last Wednesday which then started to grow despite efforts to repair it.
He told BBC Good Morning Scotland: "Over the weekend we noticed the crack starting to develop and grow further.
"It was about 10cm and it grew another couple of centimetres. We reduced the pressure further and then at that point the crack still grew, so the only safe option was to take the system down so we could be convinced that we could stop the growth of the crack and get in and do a proper permanent repair.
"It was a straightforward process when the crack was not moving. Now that the crack is propagating we need to be very careful that whatever repair isn't just masking a crack underneath, so it will probably be a little bit more complicated than what we thought it was going to be, hence why we need to take the system down."
Asked how long the system was likely to be down he said: "We're estimating just now between two and three weeks.
"Overnight the system has come down, we've been making it safe and now we need to get in and inspect further and the results of that inspection now that the system is safe will obviously determine the repair mechanism."
Some local residents have been placed in temporary accommodation while the repairs take place.
Ineos only recently bought the pipeline, which takes mainly oil to the company's refinery at Grangemouth.
Mr Gardner said the impact of the shutdown would be "very significant" for Ineos customers the North Sea producers, who are now not producing, and apologised to them.
He said: "I think in terms of the end producers, even though it's a large flow of oil from the North Sea, most of that oil is then exported, so I think the UK domestic impact will not be great but it's certainly a big impact for our customers."
The shutdown was raised at Holyrood in an urgent question from North East Scotland Lib Dem MSP Mike Rumbles.
Mr Rumbles called for reassurances that the crack was a one-off, adding: "People living along the length of this pipeline, especially in Aberdeenshire, are worried that there may be further, as yet undetected, fractures."
Energy Minister Paul Wheelhouse said the Scottish Government was seeking reassurances from Ineos that no similar problems would arise elsewhere.
"It's not possible at this stage to give any clarity on those points but it's clearly something that has been raised by the Scottish Government with Ineos and we'll seek further clarity on that.
"What I would say is that this is a fault that has been identified during routine maintenance. Routine maintenance happens all the time on the pipeline and that hopefully will give confidence to the public that a breach has been discovered before it became a significant issue."
Pressed on the implications for oil and gas workers, Mr Wheelhouse said ministers were seeking information on the impact of the shutdown on particular companies.
He said: "We'll be seeking as a high priority to ensure we protect the interest of those supply chain companies which may have cashflow difficulties if they are not able to conduct the work that they have been contracted to do.
"We are keen to ensure that we protect the workforce of those involved in production on the platforms that have been affected by the Forties pipeline system shutdown from having any impact - at a difficult time for the sector already - having any further exacerbating effect on employment or profitability in those companies."