Glasgow art school bosses told to face MSPs
20 September 2018, 19:11 | Updated: 20 September 2018, 19:14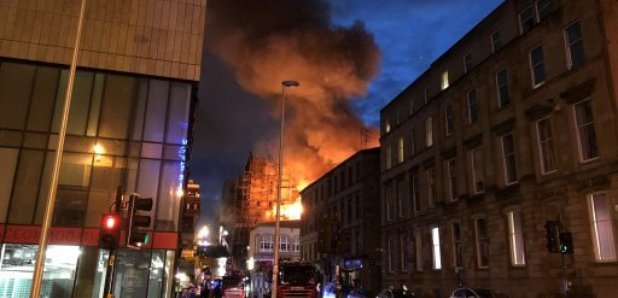 Glasgow School of Art management will be asked to give evidence to MSPs after a Holyrood committee heard of systemic management failures on fire risk.
The art school's historic Mackintosh Building suffered a devastating fire in June as reconstruction following an earlier blaze in 2014 neared completion.
A panel with links to its famed designer Charles Rennie Mackintosh or to the art school gave evidence to Holyrood's Culture Committee.
They agreed the building should be rebuilt and an expert panel should be set up to oversee this, but were split on whether lessons had been learned from the 2014 fire and what the refurbished building should be used for.
Glasgow Kelvin MSP Sandra White said the GSA board, whose chairman vowed last week to rebuild the iconic building, appeared "not fit for purpose".
Charles Rennie Mackintosh scholar Roger Billcliffe said the building was a "fire trap waiting to happen" due to construction including air vents which acted as chimneys and warned a further blaze would occur if the building is rebuilt.
He argued students should not return to the building and said "nobody knows" whether lessons were learned from the earlier fire as a fire service report was redacted and claimed the art school had "not said a word".
He said: "The staff are still there that were responsible for it. I don't want to send them to prison but I want to make sure that they don't operate a system where they can do it again."
Former senior employee at the art school, Eileen Reid, said anyone that worked in the school before the first blaze knew it was a fire risk.
"We all knew it. We used to talk about how many minutes we would have to get out," she said.
"Of course I was concerned about the iconic building but there was a risk to life too."
She questioned why an immediate investigation into fire risk management was not carried out after it "failed" in 2014 fire, adding: "I do think it was systemic."
Architect Malcolm Fraser said the cause of the second blaze appeared to be a failure of statutory oversight and said investigators should find out what went wrong and when.
He said queried assertions lessons had not been learnt from the 2014 fire and called for the building to be restored as a working art school.
Charles Rennie Mackintosh Society director Stuart Robertson said it would be tragedy if it was lost.
"You wouldn't build student flats on top of Edinburgh Castle if it burnt down," he said.
"For it to disappear would be a tragedy and it would show that Scotland doesn't care about culture."
Committee convener Joan McAlpine said the GSA management would be invited to give evidence at a future committee meeting.