Glasgow Art School 'moves six inches' since massive fire
22 June 2018, 16:49 | Updated: 22 June 2018, 17:05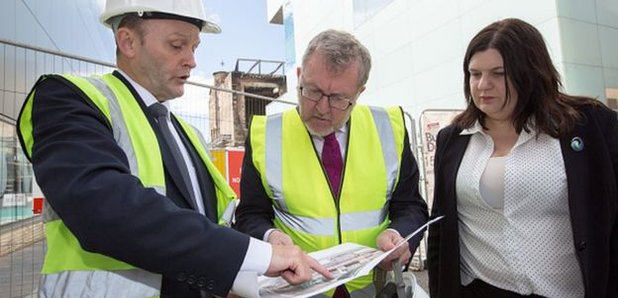 The Glasgow School of Art has moved six inches since it was gutted by a blaze last week, according to the council leader.
Concerns have been raised it could collapse "with no warning" as a result of damage caused by the fire.
Flames tore through the building from around 11.20pm on Friday, June 15 and spread to nearby properties including the O2 ABC.
Glasgow City Council leader Susan Aitken has now warned people to stay away from the sealed off area.
She said: "Our building control officers are saying part of the building has moved quite significantly, about six inches.
"The elevation has shifted. There's a danger that part of the building may collapse.
"If that were to happen, it could happen with no warning.
"Therefore it's very, very important that no one enters the cordon - unless they are an accredited expert."
Meanwhile, police received a report of a break-in at the nearby Campus on Sauchiehall Street around 3.20am on Thursday.
The bar is inside the cordon which was put up to seal off the area following the blaze at the Mackintosh Building.
Police are investigating the break-in at the bar.
A police spokesman said: "Inquiries are continuing following a break-in at premises on Sauchiehall Street, Glasgow at around 3.20am on Thursday June 21."
The city council said other reports have been made of people breaching the cordon, raising safety concerns, and urged people to stay away.
Glasgow City Council's head of building control Raymond Barlow said on Thursday: "I fully understand people's desire to get back into their property and if we could safely do anything to facilitate that then we would.
"However surveys in recent days have shown us that the West and East elevations remain of significant concern.
"This means that there is a risk that parts of the building might fall into Scott Street or Dalhousie Street. This could happen without warning."
At the height of the incident, more than 120 firefighters were involved in fighting the blaze.
There have been no reports of any casualties, although emergency services had to evacuate some properties in the area.
Picture Credit: McAteerPhoto