Grangemouth Petrochemical Plant Gas Leak Now Resolved
3 May 2017, 06:38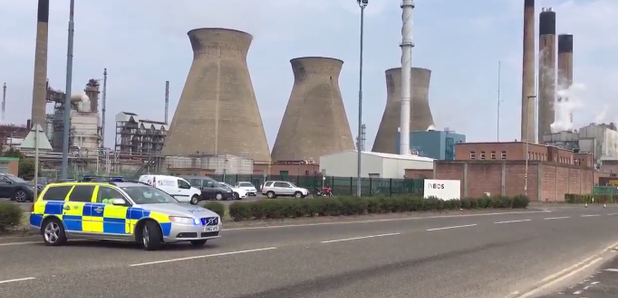 An incident at Grangemouth petrochemical plant in which a pipe was found to be leaking gas has now been resolved, police have said.
The central Scotland site, operated by Ineos, was partially evacuated after a leak on a pipe carrying ethylene gas prompted an emergency response at 12.15pm on Tuesday.
Police Scotland said road closures on Wholeflats Road, Grangemouth, have now been lifted.
A spokesman said: "The incident has now been resolved and Ineos have confirmed they are undertaking an investigation into the circumstances.''
Superintendent Brian Auld, of Falkirk police office, added: "I'd like to thank again the local community, employees and all involved in the emergency response for their patience, support and professionalism while emergency services and industry personnel worked together to manage this incident.
"I can give an assurance that disruption to the local road network was minimised and only necessary to ensure the safety of all, however I recognise that the local community were concerned by the circumstances of this incident and the time taken to achieve resolution.
"Can I reassure all members of the community that the actions of first responders and Ineos staff reduced the potential for escalation and worked tirelessly to reduce the impact to the public''.
All staff have since been accounted for and there were no injuries.
At its peak, the Scottish Fire and Rescue Service sent eight vehicles to the scene to support the energy giant's on-site fire engines.
The ambulance service also sent a special operations response team.
Workers arriving at the plant for their shift were greeted by road closure signs.
They were turned away from gate five and no-one was permitted to go any further inside the plant and police, who had blocked the road, turned away those who tried.
An emergency meeting was held on Tuesday in response to the incident.
A spokesman for Ineos said: "We can confirm that the leak at our KG (Kinneil Gas) plant has been fully isolated and all restrictions to areas outside the site are being lifted.
"The incident management team have now completed their activities.
"Ineos will continue working with the appropriate authorities to carry out an investigation.
"We apologise for any inconvenience caused whilst we dealt with the incident.''