Half Of Nurseries Likely To Implement Free Childcare Pledge
23 March 2017, 07:11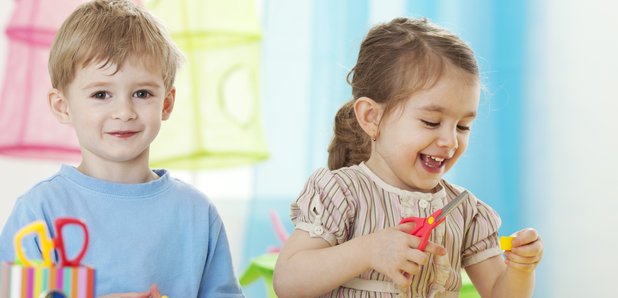 Only half of nurseries in the private and voluntary sector say they are likely to implement the Scottish Government's flagship pledge on childcare by providing youngsters with 1,140 hours of funded care.
Ministers have already pledged to almost double the amount of free care three and four-year-olds and vulnerable two-year-olds are entitled to receive by the end of this Parliament.
A survey by the National Day Nurseries Association (NDNA) found while about half (51%) are very likely or likely to offer places, a quarter of nurseries said it was either very unlikely or unlikely they would do so.
Its annual nursery survey for 2017 in Scotland said: "Many nurseries have reservations about the 1,140 hours offer, with 40% reporting negative feelings compared to 27% positive feelings.
"Comments indicate negative views are driven by fears about funding rates falling short of costs of delivery of funded places as they do with the current 600-hour offer.''
While 84% of nurseries in the private and voluntary sector provide funded places for three and four-year-olds, the vast majority (85%) of them said the money they received from the local council for this did not cover their costs.
Nurseries received an average of £3.64 an hour for providing childcare under the policy, leaving them with an average reported loss of £1.70 - the equivalent of £1,020 per child over the 600 hours youngsters are currently entitled to, according to the NDNA.
Meanwhile, 20% of nurseries reported having a waiting lists for funded places, with 25% stating the number of such places was capped by their local authority.
Just over half of the 221 private and third-sector nurseries who were surveyed expected to either break even (40%) or make a loss (12%) in 2017.
The NDNA said: "Just at the time when the government needs a healthy private and third sector with its unique ability to rise to the challenge of flexible, year-round provision of 1,140 hours early learning and childcare, confidence is falling, with more than half expecting to make a loss or only break even.''
Chief executive Purnima Tanuku said: "Over half of respondents said their setting expected to break even or make a loss this year. Offering 1,140 hours will exacerbate this.
"Three-quarters of nurseries plan to increase their fees to parents in the next 12 months. So, parents are ultimately paying for this policy. Free childcare should be free for families and providers.''
Ms Tanuki called on the Scottish Government to "be innovative and lead the way with their ambitious plans to overhaul the early-years sector''.
She stated: "The early learning and childcare policy blueprint included some great ideas which could transform the landscape for families with pre-school children, including an online early learning and childcare account.
"This would enable parents to pay their chosen provider directly, supporting parental choice and reducing administration.''
A Scottish Government spokesman said: "There are few more important jobs than caring for our youngest children.
"As announced by the First Minister at the weekend, our expansion plans will be built on a foundation of fairness and equity for the workforce.
"We will invest £50 million to extend payment of the living wage to all childcare staff delivering funded entitlement in private and third-sector nurseries by the end of this parliament.
"Staff employed in NDNA member nurseries will be among those to benefit.
"The minister for childcare will make a significant statement to Parliament today, setting out the next phase of delivery of our ambitious plans to transform and expand provision of free early learning and childcare by 2020.''
Green MSP Alison Johnstone said: "Quality and not just quantity of childcare is vital. This report must prompt ministers to pick up the pace on investment to help childcare providers cope with rising costs.
"Green MSPs previously pressed for the Living Wage to be rolled out to nursery and childcare staff given the importance of the job they do, and it's welcome to see the Scottish Government agreeing to do so.
"But this report makes clear that there is much more to do to make childcare the well-paid, attractive employment it should be.''