Handyman Creates Christmas Movie Magic
25 November 2018, 12:57 | Updated: 25 November 2018, 12:59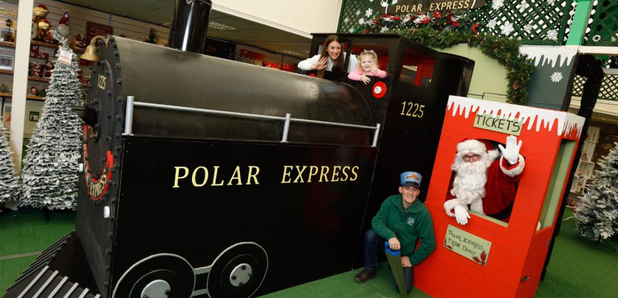 Alex Freeman has created some Christmas movie magic for youngsters when they visit a Scots garden centre.
The cleaner-cum-carpenter has built a replica of the Polar Express steam train from the movie of the same name featuring Hollywood star, Tom Hanks.
The train Alex crafted from wood has become a popular attraction with kids when they see the Polar Express as soon as they walk in the door of Cardwell Garden Centre, near Gourock.
The ten-feet high and 15-feet long Polar Express train engine and cab that children can climb into, even has a bell for them to ring and steam train sound effects.
There's also a mannequin dressed as Tom Hank's character, The Conductor, standing beside the train and the ticket office booth Alex built.
The Polar Express movie is an animated film telling the story of a young boy who doubts there is a Santa Claus until he takes a train ride on the Polar Express to the North Pole.
Amazingly, 59-year-old Alex's real job is a cleaner at Cardwell, but he regularly puts his carpentry skills to good use creating Christmas attractions for youngsters.
And the Polar Express train is one of his post popular creations for the Cardwell Christmas attractions.
Alex spent weeks building the train in between his cleaning duties and feeding the birds and animals in Cardwell's Pet's Corner after the centre's retail general manager, Paul Carmichael showed him some photographs of the Polar Express train.
Alex explains:''All I need is to see is a photograph of something and it's not long before I've got a good idea in my head how I'm going to make a wooden replica of it.''Although I never became a joiner or carpenter when I left school, my dad, John was a carpenter in the shipyards locally. ''When I was a boy, I used to watch him make lots of things out of wood at home for people and that's where I learned how to do it. Any carpentry skills I have, I got from my dad."
Alex adds:''I just love making the Christmas attractions and my reward is seeing the happiness on children's faces and how much pleasure they get from something I've made.''
The Polar Express train has been my biggest carpentry project at Cardwell, so far and although it's made for the kids, a lot of adults like it as well''
Paul Carmichael said: ''Alex has really surpassed himself this year. His replica Polar Express train is just fantastic and youngsters love climbing into the train's cab and ringing the bell.
''Anyone walking through our doors can't help but be impressed with our Polar Express train.''