HGV Driver Celebrates Scooping £650,000 In EuroMillions Draw
28 September 2017, 13:20 | Updated: 28 September 2017, 16:50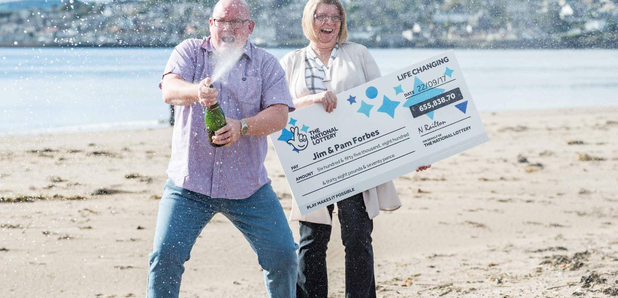 An HGV driver is planning to buy a house and enjoy a trip to Hawaii after winning more than £650,000 in the EuroMillions draw.
Jim Forbes, 50, and wife Pam also plan to go part-time so they can enjoy their win together along with their two children, Aaron, 19, and Chloe,16.

Mr Forbes has already bought his son a car and other plans include spending Christmas in New York with his wife, who works in the local Spar, and buying a campervan for trips away.

Mr Forbes, who spent 22 years in the RAF, discovered he had won when he asked the cashier at his local Asda to check his EuroMillions ticket on Saturday while he was buying some Lucky Dip tickets for Lotto.

He said: "When I got outside the shop I phoned The National Lottery Line. I thought they would say I had won a couple of hundred or even a thousand pounds but then the call handler asked me if I was sitting down.

"When he told me the amount I was ecstatic, people in the car park must have wondered what was going on.

"I couldn't believe it. I just kept thinking this doesn't happen to people like me. I had to go back into the shop to check some details.

Mr Forbes, from Tayport, scooped £655,838.70 in the EuroMillions draw on Friday September 22 after buying his winning ticket from the Tesco Extra on Kingsway in Dundee.

He said: "I've worked long hours all my years, including spending 22 in the RAF. This win really will change my life in that I can get precious time to spend with my wife and children.

"I've always wanted to go to Hawaii. I used to watch Hawaii Five-0 and wish I was there, and also my years with the RAF sparked an interest in the historical aspect with the Arizona memorial.

"The dream is to walk down the stairs of a plane and be greeted at the bottom with a lei. I can make that come true now."

The winning numbers from the EuroMillions draw on Friday September 22 were 06, 11, 31, 39 and 42 and the Lucky Stars numbers were 01 and 03.