Holyrood 'power grab' must be avoided, Sturgeon tells MSPs
30 March 2017, 13:32 | Updated: 30 March 2017, 13:33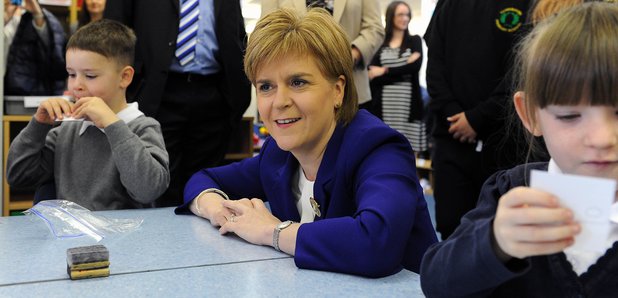 Nicola Sturgeon has warned against a "power grab'' on Holyrood as details of the planned Great Repeal Bill are published.
Scotland's First Minister said the Bill was "hugely important'' not just for the Scottish Government but for the Scottish Parliament.
The UK Government has published details of proposed legislation to transfer the whole of EU law on to the UK statute book as Britain leaves the European Union (EU).
Ms Sturgeon agreed with Greens co-convener Patrick Harvie that the devolved administrations had so far been treated ``with contempt'' in the Brexit process.
Speaking during First Minister's Questions at Holyrood, Mr Harvie said: "Today, the UK Government is publishing its absurd Repeal Bill covering huge areas of power which have no place being exercised by UK ministers.
"Can I ask what the First Minister's view is on the scope of that Repeal Bill? Does she agree that it must not be allowed to change legislation that is not specifically reserved under the Scotland Act?''
Ms Sturgeon said: "The issue, of course, around the Great Repeal Bill is about powers currently with the EU, that if they are to be repatriated in areas that are currently wholly devolved - agriculture, fishing, for example - where should those powers go?
"Now, under the current terms of the Scotland Act, those powers should automatically come to this chamber but nobody in the UK Government, and I discussed this with the Prime Minister on Monday, nobody on the Conservative benches will give that guarantee, which leads me to suspect that what the Tories are actually planning is a power grab on this parliament, and that will be absolutely unacceptable.''
She added: "I think it's really important that everybody across this chamber stands up for the rights of this Parliament before we go any further in this process.''
Ms Sturgeon said the Scottish Government had not seen Wednesday's letter triggering Article 50 before it was published and did not know in advance when it was going to be published or what it would say.
"Not just Scotland but all of the devolved administrations have been treated with contempt by the UK Government so far in this process,'' she said.
In a swipe at Theresa May, she added: "To be fair, though, the Prime Minister did give me an insight into its contents on Monday of this week.
"She told me, and this is a direct quote, she told me that the Article 50 letter would be not detailed, not short but not lengthy either.
"`So, I'm grateful to her for that insight into the government's thinking.''