Holyrood Urged To Adopt Phased Ban Of Petrol And Diesel Vehicles
23 January 2017, 06:35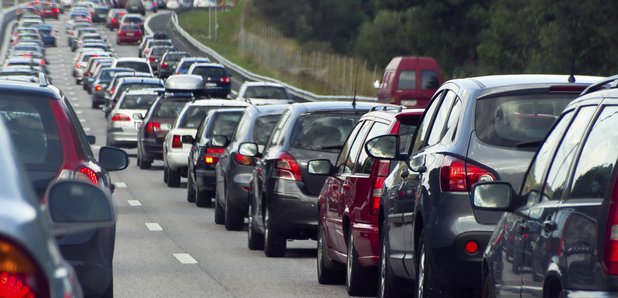 Ministers should consider banning petrol and diesel vehicles from some parts of Scotland as part of efforts make the country more environmentally friendly by 2030.
Academics and industry experts on Scotland's future energy taskforce have just published their vision of what the energy system could look like in 13 years time.
With the Scottish Government already having pledged to cut emissions by 80% by 2050, the year is seen as being an "important staging point'' in achieving its targets.
The new strategy suggests how the energy sector could be "decarbonised'' and suggests ministers should "identify urban locations for the phased introduction of a ban in the use of conventionally fuelled vehicles by 2025''.
The taskforce, convened by WWF Scotland, also suggested central and local government should make sure they buy and lease only low carbon vehicles that produce fewer emissions.
The report backs the development of low carbon energy sources, highlighting the need in particular for carbon, capture and storage (CCS) technology.
It also suggests a programme be put in place for all homes to be brought up to a minimum energy efficiency standard by 2025, where practicable to do so.
With the Scottish Government expected to publish its draft energy strategy in the coming week, Dr Keith MacLean, the chair of the UK Energy Research Centre advisory board, and taskforce facilitator said there was "an excellent opportunity for the Scottish Government to assert overall leadership and control over the nation's energy future''
He stated: "A major task like decarbonising the energy system will not be achieved on a piecemeal and incremental basis, nor without an integrated long-term plan.''
Dr Jillian Anable, Professor of Transport and Energy at the University of Leeds said: "Transport has for too long been the laggard sector when it comes to reducing carbon emissions, and this energy strategy is the perfect time to introduce policies to address the shortfall.
"The Scottish Government should take this opportunity to identify locations for a phased ban in the use of petrol and diesel vehicles from 2025, take steps to decarbonise publicly owned or managed transport fleets and coordinate collaboration between delivery firms to reduce the recent rapid growth in road freight emissions.''
Professor Jan Webb of Edinburgh University said: "Scotland's relatively old and often draughty buildings account for nearly half of our energy spending, and we have a great opportunity to improve their warmth without turning up the heating.
"All homes should be renovated to a minimum 'C' energy performance rating by 2025, through incentives and standards which build on successful existing schemes.
"We also need to start planning now for a future sustainable, and renewable, heat supply.
"Local governments will need to examine the best options for their areas, and be empowered and resourced to develop detailed strategies.''
Jenny Hogan, director of policy at industry body Scottish Renewables, said: "Scotland has made great strides in the decarbonisation of its electricity supply, with renewables now generating enough power to meet almost 57% of our electricity needs.
"Tackling the colossal challenge of climate change while keeping energy bills down and securing sustainable jobs means putting renewables at the heart of our energy supply.''
A Scottish Government spokesman said: "Scotland has adopted among the most ambitious statutory targets in the world and achieved much to date, exceeding the 2020 target of 42% six years early.
"In response to increased global ambition in the Paris Agreement, we will be consulting this year on a new Climate Change Bill to establish a more testing emissions reduction target for 2020.
"The Scottish Government's support for renewable energy has been a key factor in the remarkable progress the country has made so far through substantially increasing the supply of low carbon electricity and generating sustainable economic growth.
"We have also made available half a billion pounds over the next four years to tackle fuel poverty and improve energy efficiency, made progress on developing a more circular economy - where goods are kept in valuable use for longer - and boosted food waste recycling.
"Later this week we will publish a draft Energy Strategy for consultation, alongside our draft Climate Change Plan, which will outline a long-term vision for the future of the energy system in Scotland up to 2050.
"The Strategy will consider energy supply and consumption as equal priorities and demonstrate how to facilitate and capitalise on the transition to a low carbon economy, securing the social and economic benefits for the people and businesses of Scotland.''