Ian Blackford: May And Corbyn Must 'Walk The Walk' On Workers Rights
9 October 2017, 12:34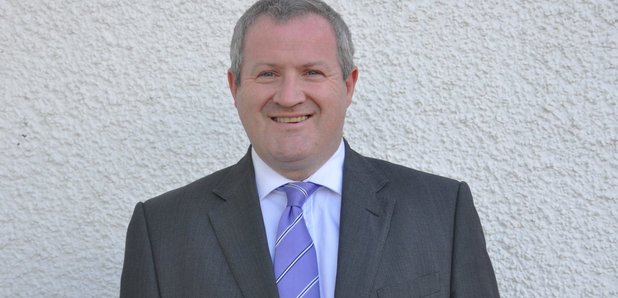 The SNP's new Westminster leader has urged Theresa May and Jeremy Corbyn to give their backing to a bid to a bid to end the "scandal" of unpaid work trials.
Ian Blackford said the Tory and Labour leader must both "walk the walk" on workers' rights, and back a private member's bill being brought forward by an SNP MP.
Stewart McDonald, the MP for Glasgow South, hopes to change the law to outlaw the practice of employers asking job seekers to do a trial shift for for free.
Mr Blackford used his speech at the SNP conference in Glasgow to speak out against the "scandal of exploitative unpaid trial shifts" - which he said disproportionately effects young people starting their careers as well as those returning to work after a break
The SNP Westminster leader said: "When you are desperate for a job and trying to get off benefits - if you get them at all - then any trial shift seems better than no trial shift.
"But no one should be deprived of a fair day's pay for a fair day's work. If you do the job -you should be paid for it.
"So to Theresa May and Jeremy Corbyn, I say this - we can make a real difference in the lives of those looking for work. We can make life fairer for our young people, and we can end the rip off practice of businesses who take prospective employees for granted.
"So join with us and back this bill and let's end an injustice."
He insisted: "Theresa May and Jeremy Corbyn must support this bill. They may be keen to talk the talk on workers' rights - now they must walk the walk."
Mr Blackford argued that although independence was "the only way" for Scotland, while the country remains in the UK SNP MPs would continue to speak out at Westminster.
However the party lost 21 of the seats it had held in June's snap general election, with Mr Blackford appointed Westminster leader after Angus Robertson lost his seat to the Tories.
"For as long as we remain tied to Westminster, you can be sure that our SNP MPs will continue to provide the strong voice that Scotland needs," he stated.
As part of that he pledged that nationalists would "continue to argue for an end to austerity that is damaging our public services, cutting family support, and holding back the economy".
With Chancellor Philip Hammond due to deliver his budget next month, Mr Blackford said: "We'll call for a meaningful fiscal stimulus to boost growth and mitigate against the impact of leaving the EU."