Indy Scotland 'would join list of countries for EU membership'
10 February 2017, 07:09 | Updated: 10 February 2017, 09:27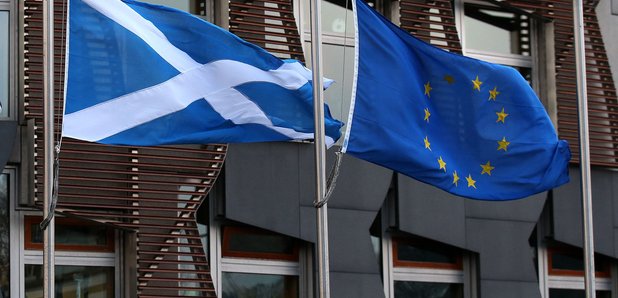 An independent Scotland would join a list of would-be EU members, a senior European official has said.
Jacqueline Minor, the head of representation for the European Commission in the UK, said if Scotland became independent and wanted to join the EU it would be added to the list of candidate countries including Montenegro, Serbia, and Bosnia and Herzegovina.
Speaking at a Scottish Parliamentary Journalists' Association event in Edinburgh, she said: "Were Scotland to become independent, they would join that list.''
She added it might be easier for Scotland to meet membership criteria such as democracy, rule of law, anti-corruption and protection of minorities than other candidates.
Ms Minor also poured cold water on Scotland's ability to secure a special deal in Brexit negotiations.
The Scottish Government argues the country, which had a majority of remain voters in the EU referendum unlike the UK, should be in line for a differentiated deal after the UK Government's move for special deals for the car industry.
Ms Minor said: "The negotiations will be with the United Kingdom and that means essentially the Westminster Government.
"The first question is will the Westminster Government argue in favour of a differentiated arrangement, and it seems to me that at present they are not suggesting that they will.
"Should they do so, should they change their mind, then the other members states would have to look at that. I have to say that there is no precedent whereby a free trade agreement has distinguished between significant regions of the partner country.''
Labour and the Conservatives have said the SNP should be "honest'' with voters about an independent Scotland's membership of the EU.
Scottish Conservative constitution spokesman Adam Tomkins said: "This is a senior figure telling the SNP what it needs to hear.
"For all its moaning about Brexit, it knows fine well an independent Scotland would not simply step into the European Union.
"Not only would it join the back of the queue, but we now learn it may have to adopt the euro and tackle an eye-watering deficit.
"It's time for the Nationalists to be honest about Brexit and stop using it as a tool to agitate for separation.''
Scottish Labour's Europe spokesman Lewis Macdonald said: ``This is a hugely significant intervention from an experienced and respected official.
"As the SNP was repeatedly told during the (2014 independence) referendum campaign, an independent Scotland would have to apply to join the EU like any other country.
"Alex Salmond tried to dismiss this, despite all the evidence to the contrary. Now it's time for the SNP to be honest with voters - an independent Scotland would have to join the queue.''