IndyRef2 Plans A Factor In SNP Election Result, Nicola Sturgeon Admits
9 June 2017, 14:17 | Updated: 9 June 2017, 14:23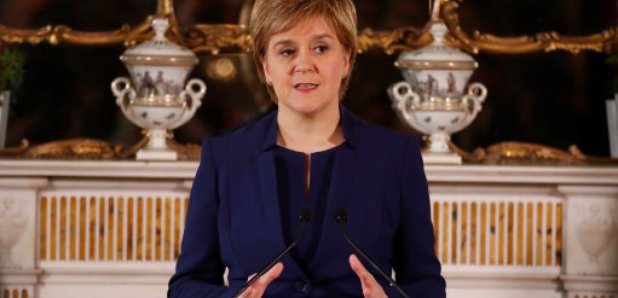 First Minister Nicola Sturgeon has conceded her plans for a second vote on independence were "undoubtedly'' a factor as the SNP lost 21 seats at Westminster.
In a dramatic night in politics, senior nationalists were ousted from the House of Commons - with former first minister Alex Salmond and SNP depute leader Angus Robertson among those who were defeated as the Scottish Tories had their best result in a General Election for more than three decades.
Ms Sturgeon said "Undoubtedly the issue of an independence referendum was a factor in this election result, but I think there were other factors in this election result as well.''
Brexit, a late surge in support for UK Labour leader Jeremy Corbyn and tactical voting were some of the other factors Ms Sturgeon cited as having contributed to the result.
"I strongly suspect there were independence supporters amongst those who voted for Jeremy Corbyn yesterday,'' she said, stressing that "rushing to overly-simplistic judgments'' about the election was "not the right thing to do''.
The SNP lost seats to the Conservatives, Labour and the Liberal Democrats in the election - with other high-profile casualties including John Nicolson, Mike Weir and Tasmina Ahmed-Sheikh.
The SNP won just under 37% of the vote in the election, ending the night with 35 MPs - a result substantially down on the 50% of the vote they secured in 2015 which gave them 56 MPs.
In contrast, the Tory share of the vote went from 15% to 28% as the party's tally of MPs increased from just one to 13.
Labour and the Liberal Democrats also saw their number of representatives rise, to seven and four respectively.
Deputy First Minister John Swinney has already said plans for a second referendum were a "significant motivator'' which lost the SNP support, adding the party would "have to be attentive to that'' - indicating perhaps the nationalists might have to draw back from the proposals.
Ms Sturgeon pledged she would "reflect carefully'' on the result as she stressed the need for politicians to "try to bring people together to bridge divides and to find a way forward that is routed in consensus''.
She also insisted her party had won the election in Scotland - returning more MPs than its rivals combined.
The SNP leader added: "It is an inescapable fact that we also suffered some bitterly disappointing losses last night.''
She paid tribute to Mr Robertson, who had been MP for Moray since 2001, describing him as a "politician and parliamentarian of immense stature, who week after week held the Prime Minister to account, providing the scrutiny that the official opposition in the House of Commons failed to do''.
Ms Sturgeon continued: "I want to also make particular mention of Alex Salmond, my friend and mentor for almost 30 years, and without a shadow of a doubt the giant of modern Scottish politics - someone who has devoted his life to serving this country.''
The 2015 result, in which the SNP won all but three of the seats in Scotland, was an "exceptional, perhaps once in a century'' achievement, she said.
"Traditionally in Westminster elections, the SNP is squeezed by the main UK parties.
"Indeed in this campaign we have seen the return of a dominant two-party system in England.
"This makes the SNP's achievement of winning a clear majority of seats in Scotland all the more remarkable.
"However, as we do after all elections, we will reflect on these results, we will listen to voters and we will consider very carefully the best way forward for Scotland, a way forward that is in the interests of all of Scotland.''
With the Tories having lost their majority, she said the SNP would "work with others, if it is at all possible, to keep the Tories out of government''.
Ms Sturgeon stated: "We've always said that we would work in alliance with others to promote progressive policies to build a fairer country.
"We stand ready to play our part in that alliance.''
She criticised Theresa May, who called a snap election in a bid to boost her party's slender majority at Westminster - a gamble which spectacularly backfired on the Conservative leader.
The Prime Minister had now "lost all authority and credibility'', Ms Sturgeon said.
She added: "The damage the Tories have done to the stability and the reputation of the UK cannot be overstated.
"In less than a year they have caused chaos on an industrial scale.
"They recklessly force through an EU referendum, they then embarked on a disastrous Brexit strategy, deciding to remove Scotland and the UK from the single market with no idea and no plan for what would come next.
"They then called an election knowing that the result would be declared just 11 days, less than two weeks, before the most important negotiations in the UK's modern history were due to start.
"They were so arrogant that they thought they could do anything and simply get away with it.
"Now they're planning to cobble together an unstable administration, causing yet more damaging uncertainty.
"All of this because they have consistently put the interests of the Tory party ahead of the interests of the country.''
Ms Sturgeon demanded: "Last night has shown that the reckless Tory pursuit of a hard Brexit must be abandoned.
"The clock on the Article 50 negotiations is ticking. It is no longer acceptable to proceed without a coherent plan.
"So, I'm appealing to MPs from all parties to join together to keep the UK and Scotland in the European single market.
"By doing so we can protect jobs, preserve our relationship with Europe and bring some order to these negotiations.''