Jamie Murray Wins Mixed Doubles Crown
17 July 2017, 05:36 | Updated: 17 July 2017, 05:37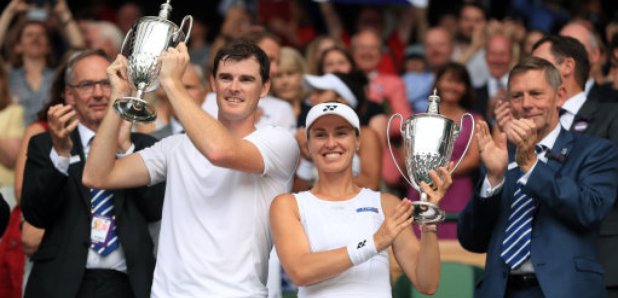 Andy Murray watched from the wings as his brother and Martina Hingis won the Wimbledon mixed doubles final, just days after he crashed out of the tournament.
Jamie Murray and his Swiss partner were crowned champions after they triumphed in the battle of the Brits, beating defending champions Heather Watson and Finland's Henri Kontinen.
The pair won 6-4 6-4 on Centre Court in a match which split the home crowd's support.
Andy Murray had hoped to defend his title in the gentlemen's singles final on Sunday, but was knocked out of the tournament in the quarter-finals.
However the world number one returned to the All England Lawn Tennis Club to see his brother's moment of glory.
Asked if his brother had watched the match, Jamie Murray told a post-match press conference: "Yeah, I just saw him there.
"He said he came, like, in the middle of the first set.
"I think he just waited in the lockers. He said he didn't watch it. I don't know if he snuck a few points in or not.''
Andy Murray had posted an aerial photograph of a mountain range on his Instagram account on Saturday.
The crowd cheered evenly as the match unfolded, with shouts of "Come on Heather'' and "Come on Jamie'' clearly audible as loyalties were split between the two Brits.
At one point, an exasperated supporter cried "Come on, all of you'' as he struggled to pick sides.
Jamie Murray said the atmosphere was "a bit strange'', given the presence of the two British players.
But he added: "It's a great success for British tennis to have two in the final.
"I had a great week, we played a lot of amazing tennis, especially in the final.
"I knew we would have to play a good match if we wanted to have a chance to win and we were able to do that.''
Watson told a press conference the crowd had been "really loud'' and "a lot more involved'' in last year's final, adding: "Having the Brits on both sides of the net, it was pretty neutral.''
She said: "It's really fun to play in an atmosphere where the crowd's all for you.
"But it was still so enjoyable to play today.
"It was nice that both teams were getting a lot of support.''
Tennis fan the Duchess of Cambridge watched part of the match with her husband the Duke of Cambridge, but much of the Royal Box had emptied following the gentlemen's singles final.
Murray and Swiss partner Hingis hugged as they secured the title, while Judy Murray, who was watching on in the stands, jumped to her feet in celebration.
The triumphant pair stopped to sign autographs on their way out of Centre Court, before being presented with their trophies in the Royal Box.