Johann Lamont Backs Anas Sarwar In Labour Leadership Contest
12 November 2017, 05:36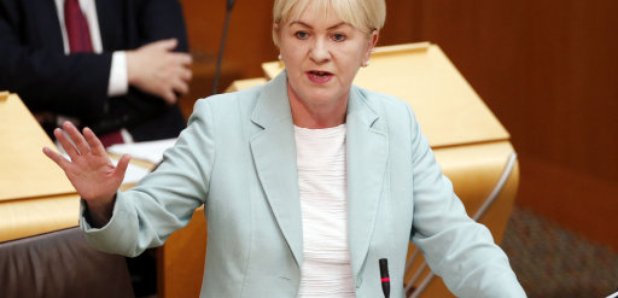 Former Scottish Labour leader Johann Lamont has backed Anas Sarwar to win the race to succeed Kezia Dugdale.
Mr Sarwar is running against left wing MSP Richard Leonard, who is said to be closer to Jeremy Corbyn, for the post of Scottish Labour leader.
But Ms Lamont insisted the leadership battle was not a "proxy test for our loyalty to our UK leader".
Mr Sarwar - a former dentist who served as an MP before being elected to the Scottish Parliament in 2016 - was Scottish Labour deputy leader when Ms Lamont headed up the party, including during the 2014 independence referendum campaign.
She quit the post suddenly later that year, accusing party bosses in London of treating Scotland like a "branch office".
Former UK Government minister Jim Murphy was then voted into the role but stood down after the disastrous 2015 general election, which saw Scottish Labour lose all but one of its seats north of the border.
Kezia Dugdale, who had been Mr Murphy's deputy leader, took on the job but resigned suddenly in August 2017, saying it was time to "pass that baton on".
Scottish Labour bosses will announce who has been chosen as the party's next leader in Glasgow on Saturday November 18.
Ahead of that Ms Lamont explained why she had voted for Mr Sarwar - who has come under fire in the campaign over his decision to send his children to private school and his links to a family firm which does not pay all staff the Living Wage.
She said she wanted to make her support public because she believes the "cartoon depiction of his character unacceptable and deeply unfair".
Ms Lamont said: "Anas was my deputy at a time of heightened challenges for our country and he and I worked closely as we fought to support Scotland's place in the UK and to begin the battle to win back voters to Labour's cause.
"His loyalty to me was a constant in a world of upheaval, a loyalty as certain in private as it might be on public display.
"I saw close up his energy, tenacity, clarity of thinking, I saw his politics allied to organisation that took him out on to the doors, engaging in the arguments, not just directing from the centre.
"I saw then, as I see now, someone who listens to people's concerns and understands the root causes. He seeks answers and solutions, and persists in his desire to make a difference. That is what our party needs now."
Ms Lamont added: "It is testimony to his loyalty and values that Anas remained steadfast in his support for Labour when many of his friends and in his community had turned away from us."
In the article, published on Mr Sarwar's campaign website, she said she had initially planned to keep her views on the leadership contest private, saying that there is "little so 'ex' as an ex-leader".
But she stated: "I now have decided to add my thoughts because I have become increasingly concerned at the gap between what this contest could have meant, and how it is now being conducted.
"For some, this contest has to be a choice between absolutes, in order to frame it as a simple choice. Good v bad; principled v unprincipled; loyal v disloyal; someone who cares v someone who logically therefore does not give a hoot. False choices that demean us.
"Both candidates can do the job and a scorched earth approach, diminishing one to enhance the other, is as destructive as it is dishonest.
"So this is not a contest between good and bad. It is not a proxy test for our loyalty to our UK leader. It is about electing the better candidate to make Scottish Labour's case, to win support and to secure power to serve our communities and make real the change that Scotland needs."
Mr Sarwar said he was "humbled" to have the backing of his former boss, saying of Ms Lamont: "She led our party during the most turbulent era of modern Scottish politics, leading from the front in the campaign to protect Scotland's place in the UK.
"I am indebted to her for her support during the referendum campaign, and the party owes her our thanks for her continued service.
"I am proud of our positive campaign in this contest, focusing on our message of hope and leaving the divisions of the past behind us."