John Leslie in court over alleged Edinburgh club sex attack
18 June 2018, 19:13 | Updated: 18 June 2018, 19:15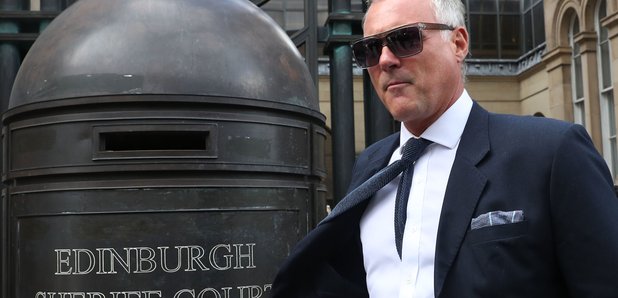 A woman has told a court she has nothing to gain from accusing former TV presenter John Leslie of sexual assault.
The 53-year-old has gone on trial accused of putting his hand down a woman's trousers and touching her bottom as they danced at her hen night in Atik nightclub in Edinburgh last June.
The woman, who cannot be identified, said she saw Leslie when they entered the club and recognised him from television, particularly Blue Peter.
Leslie is on trial at Edinburgh Sheriff Court under his real name John Stott and denies the charge.
The accuser was the first to give evidence and said she had spoken to Leslie during the night about football, some of his ex-girlfriends and speculation he could appear in TV programme Celebrity Big Brother.
While dancing with friends and a stag party later in the night she said Leslie approached her and said "be careful, you're getting married".
She said she thought he was being "protective" and suggested they dance together.
Leslie had a hand on her waist and she had a hand on his shoulder, the court heard.
The woman said: "We'd been going in circles then he pulled me closer.
"I did feel uncomfortable but thought I was maybe reading too much into it."
She said she gave her friend "a look" to make her aware she was uncomfortable, adding: "After that I felt his hand go down my trousers at the back.
"I didn't know how to react. I made even more of a look to my friend because I knew I needed to be out of that situation."
She said Leslie touched her skin but was not sure if he had put his hand beneath her underwear.
The woman told the court a friend pulled her away and then danced briefly with her hen party to "pretend it hadn't happened".
She added: "But then I got really upset so moved to the booth."
"I asked my friend something like 'why did he think he could do that or what did I do to make him do that?'"
She went outside with a friend and her sister-in-law who said they should tell someone, the court heard.
She said they told a female bouncer and later a police officer at the nightclub who took her to a station to make a statement.
CCTV of the pair dancing in the busy club was played to the court and the woman said it could not be seen exactly when the alleged incident happened.
Asked by fiscal depute Fiona Nairn how she feels now, the woman said it had impacted on her relationship with her husband, friends and work.
She said: "It's been one of the toughest years of my life when it should have been the happiest."
Under cross examination by defence lawyer Derek Ogg QC, she cried and said: "I don't know why anyone would think I made this up. I have nothing to gain from it."
Mr Ogg put it to the woman the CCTV footage showed the dance with Leslie ended "voluntarily" rather than with a friend's intervention.
She said: "That's not how I see it. I just wanted out of that situation."
It was also established that the woman was taken home by two police officers and given paper bags to place her clothing in with no forensic protocol in place.
Forensic scientist Sandra Coupar-White told the court she examined the woman's trousers, pants and tutu for potential DNA.
She said a mixed profile was found on the trouser waistband likely made up of touch DNA from the woman, Leslie and two other "minor contributors".
She told Ms Nairn that DNA could be passed indirectly from holding hands during by dancing but said direct contact with the inside of the waistband was more likely.
The results from the pants and tutu were inconclusive, Ms Coupar-White said.
Mr Ogg questioned if it was possible for Leslie's DNA to be passed from one item of clothing to another.
The witness said: "Secondary transfer is possible."
The trial before Sheriff Adrian Cottam continues on Friday.