John Swinney To Meet Abuse Survivors
7 July 2016, 08:48 | Updated: 7 July 2016, 08:50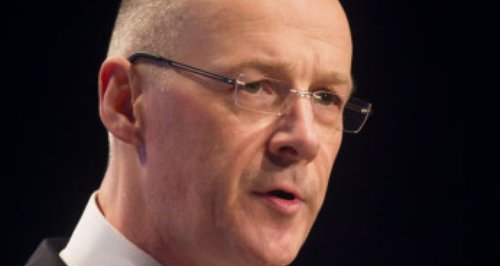 John Swinney is to meet with abuse survivors in an attempt to reassure them about the independence of Scotland's child abuse inquiry in the wake of the resignation of two leading panel members.
Inquiry chair Susan O'Brien QC resigned on Monday after formal proceedings were launched to remove her following claims she made comments that were ''offensive'' to survivors.
Panel member Professor Michael Lamb has also stepped down, saying the review is ''doomed'' due to interference by ministers.
In her resignation letter, Ms O'Brien's lawyer said the inquiry's work ''will have no value'' if its independence cannot be guaranteed.
The Deputy First Minister defended officials against claims they undermined the inquiry, saying they acted ''legitimately and appropriately'' within the law.
Helen Holland, a spokeswoman for survivors group In Care Survivors, has said she has no faith in the inquiry and called for assurances of its ''absolute independence''.
Mr Swinney is to meet groups on Thursday to "hear their concerns and reassure them on the steps being taken to keep the public inquiry into child abuse on track''.
He will also explain why he took the decision to investigate comments made by Ms O'Brien.
Speaking ahead of the meeting, Mr Swinney said: "I am grateful for the opportunity to meet survivors and their representatives to discuss the public inquiry into historic child abuse and the wider support available to them.
"Since this meeting was arranged, two members of the inquiry panel have stepped down and made claims about the operation of the inquiry that the Scottish Government rejects in the strongest possible terms.
"I realise that the events of the last week have caused survivors great anxiety and upset. I can't undo that, but today I will have the opportunity to listen carefully to their concerns and hear what they feel is needed to move forward.
"Today's meeting will also allow survivors the opportunity to ask me all the questions they have about what has happened so that I can share the evidence that was put to me that led to the decision to begin an investigation into the comments made by the former chair.
"I will also be able to set out precisely the level of interaction the Scottish Government has had with the independent inquiry and reassure them of our commitment to the inquiry's independence.
"Most importantly, I will seek to reassure survivors that work is already under way to ensure the inquiry remains on track.
"The Scottish Government remains absolutely committed to this inquiry and its work uncovering the truth of what survivors have experienced; how the people they should have been able to rely on could have been able to fail them so badly and how we make children today safer as a result of what we establish.''