Latte levy: Calls for 'tax' on coffee cups
30 August 2019, 10:05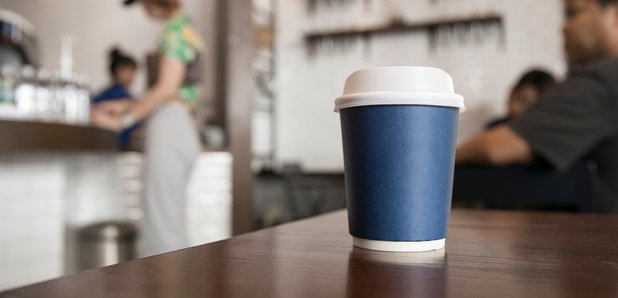 Environmental campaigners are calling on ministers to ban the use of polystyrene cups as well as introduce a so-called "latte levy".
Organisations including Friends of the Earth Scotland, the Marine Conservation Society and Greenpeace have joined forces to press the Scottish Government to adopt a "radical" plan aimed at tackling litter and waste.
With disposable drinks cups one of the most commonly discarded items, they want to see a 25p charge introduced on single-use coffee cups, as well as an outright ban on the use of polystyrene and PVC drinks containers.
Campaigners, who also include the Association for the Protection of Rural Scotland (APRS) - which helped persuade Scottish ministers to back a deposit return scheme for drinks cans and bottles - and Surfers Against Sewage, are now hoping to persuade all parties to get behind their plans.
Their goal is for a ban on all all single-use plastic packaging and utensils in the catering sector, with remaining plastic food packaging sold in Scotland to be made from readily recyclable materials by 2025.
John Mayhew, director of APRS, said the Circular Economy Bill the Scottish Government has committed to bring in was "an opportunity for Scotland again to set the lead for the rest of the UK, and for us to take another massive step away from a destructive economy that relies on unnecessary single-use items".
Scotland was the first in the UK to commit to a deposit return scheme, with Mr Mayhew adding: "Just as all parties support deposit return, so we hope there will be a consensus for these practical next steps too."
Sarah Moyes, of Friends of the Earth Scotland, said: "The impact of plastic pollution is everywhere. While consumer behaviour in tackling the issue is important, it's imperative all five parties at Holyrood commit to addressing the problem of plastic at source by preventing its unnecessary use.
"The forthcoming Circular Economy Bill has the opportunity to do that, but we also urge the Scottish Government to go one step further and implement our six point plan so we can reduce the use of single-use plastics in Scotland.
"We need political commitment to ban the most harmful materials so that the packaging from a quick bite to eat or a drink doesn't damage our environment for years to come."
Louise Edge, head of Greenpeace UK's ocean plastics campaign, said Scotland had "a good track record for being ahead of the game on plastics, as an early adopter of the plastic bag charge".
She added: "It's now high time for tangible measures such as a 'latte levy' to be introduced to further reduce reliance on throwaway plastic.
"We urge Holyrood to lead the way here by bringing in a charge on throwaway cups and banning cups made from polystyrene and PVC."
Amy Slack, project manager for Surfers Against Sewage, added: "Scotland has the opportunity to be truly world leading by introducing an innovative mix of bans and charges on coffee cups and utensils that will reduce the use of these items, and ultimately see a reduction in single-use plastics we find in our oceans and rivers, and on our beaches."
Calum Duncan, head of conservation in Scotland for the Marine Conservation Society, said: "We need these and other radical measures on single-use plastics to stop the plastic tide."
As part of its budget deal with the Scottish Greens, the SNP government at Holyrood agreed to consider introducing charges to reduce single-use disposable drinks cups.
Green MSP Mark Ruskell said: "Greens received a budget commitment from the government to roll out a 25p charge on the millions of throwaway cups used in Scotland every year. It's now time for ministers to get on with implementing it. "
He added: "I also fully support the call for a ban on polystyrene drinks cups, but we also call on ministers to move to a ban on other single-use polystyrene food packaging, as this is entirely non-recyclable."
A Scottish Government spokesman said: "We are already taking world-leading action to protect our environment and are committed to bringing forward a Circular Economy Bill in the lifetime of this Parliament.
"We are also committed to tackling Scotland's throw-away culture, and our ambitious deposit return scheme is a great example of this - helping to reduce single-use plastics across the country.
"Our expert panel has been clear that no one measure alone will be effective in reducing the impact that single-use disposable beverage cups have on our wider environment.
"That's why our approach must involve a joined-up effort across government, business, communities and individuals.
"We will consider the report's findings in detail and will respond to the panel's recommendations in due course."