'Leap into the unknown' is theme of Edinburgh Fringe
6 June 2018, 15:10 | Updated: 6 June 2018, 15:12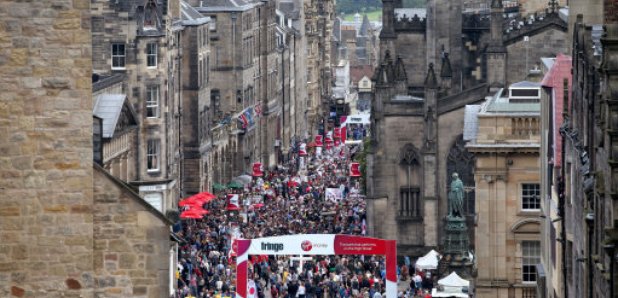 Audiences are being urged to "leap into the unknown" and make new discoveries at this year's Edinburgh Festival Fringe.
The 2018 programme, launched on Wednesday, features 3,548 shows covering theatre, dance, circus, physical theatre, comedy and music.
Festival chiefs say there will be something for all tastes and interests, with cabaret and variety performances, children's shows, free events and exhibitions in the programme.
Performers this year include Hi-de-Hi! star Su Pollard, who will be making her Fringe debut, actor and singer Jason Donovan, broadcaster Esther Rantzen, actress Maureen Lipman and Lee Ridley, winner of Britain's Got Talent 2018.
Shona McCarthy, chief executive of the Edinburgh Festival Fringe Society, said: "This year's programme contains an eclectic mix of creative endeavour from across the globe that will move, challenge and, of course, entertain.
"This year we are encouraging everyone who comes to the Fringe to take a leap into the unknown.
"Whether this is your first or your 50th time visiting the Fringe as a performer or audience member, this is a place where new discoveries wait around every corner."
Themes at this year's festival include the First World War centenary, healthcare as the NHS marks its 70th anniversary, sex and consent as the #MeToo movement continues, disability, our lives online and faith.
The shows on offer include "theatre-circus spectacular" Cirque Berserk! featuring more than 30 acrobats, aerialists, dancers, jugglers, drummers and stuntmen and women who will be performing at Pleasance at EICC, Lennox Theatre, from August 3-26.
Also in the programme are the shows Trump the Musical and Mandela Celebration, a South African musical extravaganza of traditional music, jazz and township big bands, honouring the life of Nelson Mandela.
This year marks the tenth anniversary of the Made in Scotland showcase, which celebrates the best of Scottish-made theatre, music and dance with 23 shows.
There will be a new look for the Virgin Money Street Events arena on the Royal Mile, featuring new stages and performance areas.
Culture Secretary Fiona Hyslop said: "The Fringe continues to innovate, inspire, challenge and delight audiences, providing Scottish artists the opportunity to showcase their work on a renowned platform to industry professionals from across the globe. "
Performers from 55 countries will put on shows across 317 venues at this year's festival, which runs from August 3 to 27.
Donald Wilson, culture and communities convener at City of Edinburgh Council, said: "It is impossible to imagine Edinburgh without its festival offering each year; all the razzmatazz and colour on the Royal Mile and general buzz and excitement that the Fringe and other summer festivals bring to our city every summer."