Leonard tells ministers 'use your powers to stop fire service cuts'
23 November 2017, 16:22 | Updated: 23 November 2017, 16:24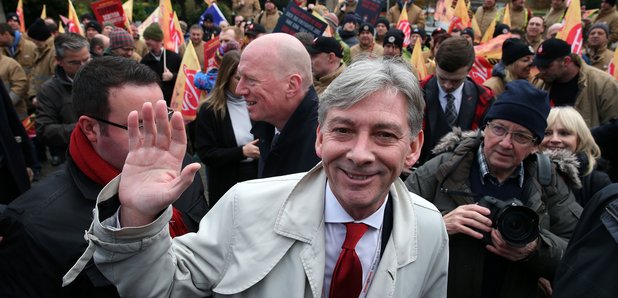 Scottish Labour leader Richard Leonard has urged the Scottish Government to prevent fire service cuts as he addressed a rally outside Holyrood.
Firefighters from across the country gathered at the Fire Brigades Union (FBU) Scotland protest, organised in response to safety fears after a leaked Scottish Fire and Rescue Service document revealed the brigade was looking at the possibility of having to ''re-balance'' staff numbers and review its ''station footprint''.
Mr Leonard said: "Now is the time, now is the hour for the Scottish Government to step up to the plate, use the powers that you've got, stop the cuts in public services, stop the cuts in the fire and rescue services.
"This is a campaign that we not only need to win, it's a campaign that we can win. We've already secured a victory this week on VAT exemption but we need to go further.
"We need to win public support for our agenda of investment in public services."
Supporters from other unions attended and Mr Leonard used his speech to stress that under his leadership Scottish Labour will "reforge the alliance with the trades union movement".
FBU representatives said they had asked all Scottish political parties to speak but only Labour agreed.
Protesters carrying placards with slogans including 'cuts costs lives' heard from FBU Scotland secretary Denise Christie, who said: "We've seen over £60 million out of our budget since 2013 and we were promised by the Scottish Government that that would not impact on the frontline but it absolutely has.
"Over 700 firefighter jobs lost, five control rooms lost, we're regularly seeing appliances unavailable for emergencies because we've not got enough staff to crew them.
"So we've come here to tell the Scottish Government, in two weeks' time when you announce your budget you need to make sure that firefighters are properly rewarded and the fire service is properly resourced in order to protect the people of Scotland."
Eight regional brigades merged to create the single Scottish Fire and Rescue Service in 2013 and staff numbers have since fallen but there have been no compulsory redundancies and no station closures.
FBU president Alan McLean said the eight brigades had merged "in name only" and said firefighters had been "played for fools".
He added: "There's 100 fire appliances today which will not be on the run in Scotland because of the deficencies in staff and what we're saying is enough is enough."
When the leaked document emerged last month Chief Fire Officer Alasdair Hay said the changes were "not cuts" but rather a ''fundamental redesign of the service" as staffing issues mean 60 to 100 fire engines are out of operation every day across Scotland.
MSPs previously heard no decisions had been made on the proposals and no fire stations have yet been identified for closure.
Chancellor Philip Hammond said in Wednesday's Budget that Scotland's Conservative MPs had "persuaded" him to axe VAT for fire and police services in Scotland from April 2018.
Mr Leonard raised the issue of fire service cuts during his first appearance at First Minister's Questions as Scottish Labour leader.
"These heroic firefighters have seen over 700 frontline jobs axed, they have watched their pay be cut in real terms year upon year," he said.
"They see a service in decline. Will the First Minister explain why on her watch Scotland's fire and rescue service has been cut."
Nicola Sturgeon said the service's operational budget had been increased this year by £21.7 million to support investment in equipment and other resources.
She said £10 million next year would be reclaimed as a result of the new VAT exemption.
"Since reform of the fire service, there have been no compulsory redundancies and no station closures," the First Minister said.
"A hundred additional firefighters were recruited in January this year, and a recruitment campaign for 300 additional firefighters will be launched next week."
Ms Sturgeon said pay negotiations were also ongoing, adding that the Scottish Government was the only government in the UK so far to confirm it will end the 1% public sector pay cap.
Mr Leonard responded: "The poster of the FBU in Scotland made it clear: no more cuts.
"So the people of Scotland will have to make up their minds about who they believe, the firefighters on the frontline or the First Minister on the sideline.
"Under my leadership Scottish Labour will work with the Government and the trade unions to try and claw back the millions of pounds that have been lost (in VAT payments), but that in itself will not be enough."