Liam Fee Death Case Review Finds 'Missed Opportunities Across Services'
20 June 2017, 13:24 | Updated: 20 June 2017, 17:07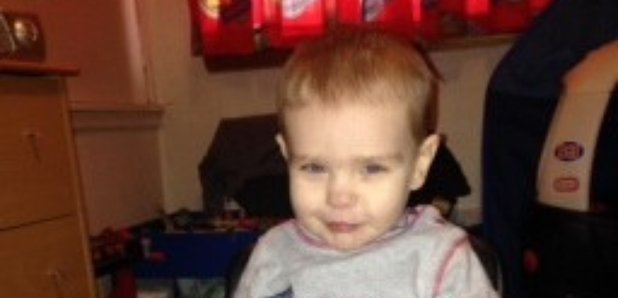 A significant case review into the death of a toddler murdered by his mother and her civil partner has found "missed opportunities across services'' which could have "potentially prevented'' the harm he suffered.
However, the independent review found Liam Fee's death "could not have been prevented'' and his mother and her partner were "manipulative, devious and hindered services'', playing workers against each other.
Rachel Trelfa and her civil partner Nyomi Fee were jailed for life last July for murdering Liam at his home near Glenrothes, Fife, on March 22, 2014.
He had suffered fatal heart injuries similar to those found on road crash victims and spent the last few days of his short life in agony from an untreated broken leg and fractured arm.
The pair - originally from Ryton, Tyne and Wear - were also behind a catalogue of unspeakable cruelty against two boys in their care, one of whom they tried to blame for Liam's death.
Their seven-week trial at Livingston High Court heard a number of people had raised concerns about the Liam's wellbeing with social services during his short life, including staff at a nursery he attended.

Liam is referred to as Child C in the report, which has not been published in full due to protection concerns.

The review, undertaken on behalf of Fife Child Protection Committee by Dr Jacqueline Mok, found: ''While the death of Child C could not have been predicted, there were missed opportunities across services to intervene to provide support to the family.

''This may have led to a better understanding of the treatment of the children living within the home and could potentially have prevented the harm Child C suffered at the hands of his mother and her partner, which subsequently led to his death.

''However, it must be understood that in many ways the manipulative and devious nature of the mother and her partner hindered this from happening.''

Liam was ''not seen as a child in need of protection'' against the backdrop of his mother and her partner's controlling behaviour, the report states, with staff lacking professional curiosity as explanations given by Fee and Trelfa were at times accepted without challenge.

There were missed opportunities to uncover the abuse at child protection interventions instigated after a childminder and nursery staff had noticed Liam had injuries, as his mother's explanation that he was self-harming was accepted and at the first intervention no paediatric advice was sought.

The report states: ''Had all the concerns been taken into account, the balance of probability would have led to the conclusion that the injuries and concerns were likely to be the result of abuse.''

Evidence was found that gaps in information sharing and planning between agencies, led to an ''inability to recognise potential harm'' to Liam.

The report found there was no clear understanding of who was in charge of the case and the new role of the named person may have contributed to this confusion.

There was a tendency to pass on information rather than try to resolve problems and most incidents were dealt with in isolation, with past information not considered.

A series of 20 recommendations have been made including considering having mandatory child protection training for GPs, ensuring all children with concerning injuries are examined by paediatricians and updating record keeping and referral processes.

Alan Small, independent chair of Fife's Child Protection Committee, said: ''We deeply regret that our services did not do more to support Liam and potentially prevent the tragic outcome of this case.''

He added: ''The results of the significant case review paint a picture of services that struggled to see through the actions of devious and manipulative parents.

''There were missed opportunities across services to intervene and provide support to the family, and services are aware that they could have done better to support Liam.

''It's clear that professionals who were making strenuous efforts to act in Liam's interests were drawn in by the demands and needs of Liam's mother and her partner who were adept at playing the system, using 'disguised compliance' to play one professional against another.

''Aspects of this case could have been managed more effectively.

''Better information-sharing should have helped services see the bigger picture and this would have helped in co-ordinating support to the children. All agencies involved fully accept the findings of the review.''

He said the recommendations are either being taken forward or are already in place.