Longoria Among Stars In Edinburgh
18 May 2017, 07:46 | Updated: 18 May 2017, 07:48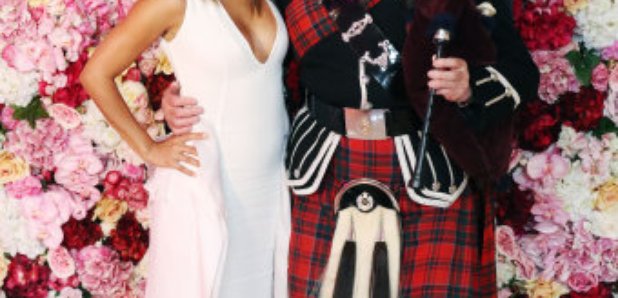 Stars including Eva Longoria Baston, Patsy Palmer and Calum Scott were among those attending a charity gala to raise funds and make a difference to the lives of children and women around the world.
The Global Gift Foundation's Global Gift Gala took place in the Scottish capital for the first time on Wednesday, at The Waldorf Astoria Edinburgh-The Caledonian.
The Gala is an international initiative from the Global Gift Foundation, a charity founded by Maria Bravo dedicated to philanthropic events worldwide.
Charities benefiting from the 2017 Edinburgh Global Gift Gala include the Eva Longoria Foundation, which aims to improve education and provide entrepreneurial opportunities for young women and Place2Be which provides emotional and therapeutic services in primary and secondary schools.
Longoria Baston said: "The work the Global Gift Foundation do to improve the lives of many vulnerable women and children across the world couldn't happen without galas like this, so it was really special to be bringing it to Scotland for the first time.
"It's such a charming, beautiful city with generous people to match.''
The Desperate Housewives star is looking forward to exploring the city on her first visit to the Scottish capital.
She said: "I'm having a little trouble understanding people but I think if I stayed here a little longer I might understand the accent.
"We're going to go sightseeing tomorrow.''
The actress has just finished working on the American show Empire and was also in the recent BBC show Decline And Fall.
She said: "That was a lot of fun, I was in Wales, so I'm making my way around the UK.
"It was a period piece, 1930s, based on the famous novel and it was with Jack Whitehall who is truly a comedian.
"A lot of people were in it, David Suchet, some really great actors.''
Another beneficiary of Wednesday's gala will be The Global Gift Foundation with the opening of their first Casa Global Gift, which provides medical treatments and therapy for children affected by rare disease.
TV star and presenter Katie Piper, King Arthur star Craig McGinlay, Outlander's Scott Kyle, actress and DJ Patsy Palmer, models and DJs Ashley James and Charlotte de Carle, and Game Of Thrones star Laura Pradelska were also among those at the event, which was hosted by Vogue Williams.
Maria Bravo, Co-founder of the Global Gift Foundation, said: "It was a pleasure to be able to host the Global Gift Gala in Scotland for the first time, Edinburgh is a beautiful city with so many amazing, welcoming people.
"During the evening, we were able to raise much needed funds and awareness to continue the work we do with women and children worldwide.''
The event featured live performances by Britain's Got Talent's Scott and impressionist Francine Lewis.
Nick Ede, philanthropist and co-host said: "The night was a dream come true bringing a bit of Hollywood to Holyrood for such an amazing cause.
"The money raised during the evening will go on to make such a huge difference to those that need it most and that's all thanks to the generous people of Edinburgh!''