Major Glasgow strike enters its second day
24 October 2018, 07:57 | Updated: 24 October 2018, 09:19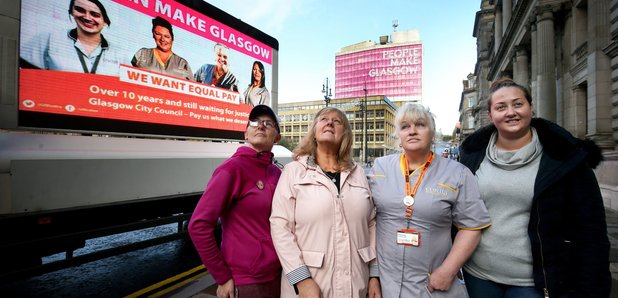 Hundreds of schools remain shut and care services are affected on the second day of a 48-hour strike over equal pay.
More than 8,000 members of the Unison and GMB unions walked out on Tuesday on the strike - believed to be the biggest of its kind.
Around 12,500 workers, mostly women, are proceeding with claims against the council following a Court of Session ruling last year.
On Tuesday thousands of strikers joined a march from Glasgow Green to Glasgow City Chambers for a rally.
The council said the strike was unnecessary and it hopes to reach a settlement in the coming months and start paying out in the next financial year.
Unions hope the strike will put pressure on the council to speed up the negotiation process.
Unison branch chairwoman Mary Dawson said: "These women are the cogs that keep our city turning - cleaning, caring, educating and looking after some of the city's most vulnerable people - and they have not taken the decision to strike lightly.
"Yet, despite the vital services they provide, their roles are still chronically under-valued.
"It's time Glasgow City Council took action to resolve this long-standing injustice so these women can continue to provide the services we all rely upon."
The local authority introduced its Workforce Pay and Benefits Review (WPBR) and grading scheme in 2006 to tackle inequalities.
Some workers say the way it is structured led to people in female-dominated roles being paid up to £3 an hour less than those in roles dominated by men.
Some women are said to have been paid up to £4,000 a year less than male counterparts.
Glasgow City Council leader Susan Aitken told BBC Radio Scotland on Tuesday: "They won their case the day that the SNP was elected to lead Glasgow City Council and we have been working ever since then to deliver them justice.
"We are extremely close to it and I am confident that they will get the settlement that they are entitled to and we will start paying out in the next financial year."
Glasgow City Council said all early years establishments, additional support for learning (ASL) schools and mainstream primary schools would be closed on both days of the strike, though all mainstream secondary schools would remain open.
Home care services for about 6,000 people are affected by the industrial action.
Museums, leisure centres and libraries run by Glasgow Life will remain open but there may be disruption to catering and cleaning operations.
The council also warned people that bin collections may be delayed due to "unofficial industrial action".
It tweeted: "Due to unofficial industrial action as part of wider action affecting the council your bin collection maybe delayed.
"Bins missed will be collected on next scheduled day."