Matheson rejects calls to resign over official's Pirc 'interference'
30 January 2018, 15:50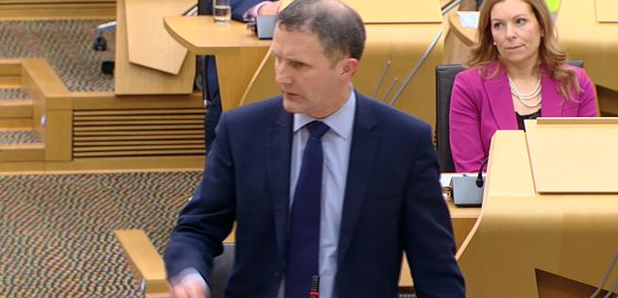 The Justice Secretary has rejected calls to resign after one of his officials was warned not to interfere in the work of Scotland's police watchdog.
Michael Matheson told MSPs at Holyrood he "fully supported" the independence of Police Investigations and Review Commissioner (Pirc) Kate Frame.

Emails published over the weekend showed she rebuked Donald McGillivray, deputy director of the Scottish Government's police division, for suggesting in November that her report on the Scottish Police Authority (SPA)'s complaint handling procedures might be delayed.

The email was sent against the backdrop of ongoing misconduct allegations against Chief Constable Phil Gormley and Ms Frame said her perception was of "governmental interference".

Mr Matheson is already under pressure over his role in the SPA reversing a decision to allow Mr Gormley, who denies the allegations, to return to work.

Tory MSP Liam Kerr said: "We now know there is a deeply embedded culture of secrecy and central interference and that tone is set from the top.

"Michael Matheson should have the good grace to realise what that means and if he doesn't we should spell it out.

"He has fallen short of the standards expected in high office. He does not have the moral credibility to do his job.

"When will he do the honourable thing and resign?"

Mr Matheon responded: "I'll continue to do the honourable thing and that is to do my job properly."

The justice secretary said the government had no knowledge of the contents of the report when the email was sent, but added it was "legitimate" for officials to "highlight potential risks that may be relevant to the work of a public body".

"The decision on what action was appropriate in light of those issues was clearly a matter for the Pirc to make and the Pirc as an independent body has made it clear that there has been no interference in this publication.

"As the Pirc has also stated they decided it was appropriate to proceed as planned in the publication of the report and I fully support the independent decision making of the Pirc in this matter."

Mr Matheson said he had only become aware of the official's email last Thursday when Pirc had advised the government the emails were to be released to the Sunday Post through freedom of information laws.

He added: "What I do recognise is that the Pirc believe that aspects of the email from my official of November 30 could be perceived as government interference with her independence and I also recognise that it is important that there should be no room for ambiguity in communications and I fully support the independence of the Pirc."

Labour MSP Daniel Johnson said: "The critical fact was that the request wasn't successful.

"The attempt to interfere and failing is morally no different from attempting to interfere and succeeding."

He said any such attempt to interfere would be "completely unacceptable" and joined calls for Mr Matheson to stand down.