Meghan and Harry Get A Good Scottish Welcome
13 February 2018, 19:00 | Updated: 13 February 2018, 19:03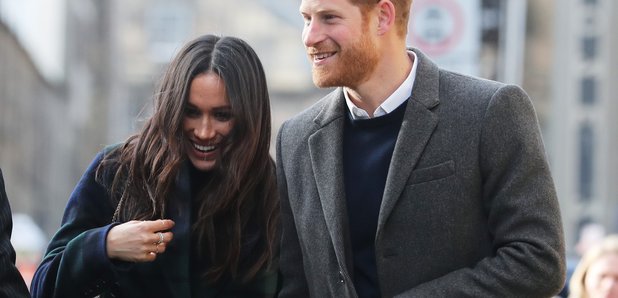 Meghan Markle wore tartan for her first official visit to Scotland with Prince Harry, and waiting to greet them was one of the armed forces' smallest recruits - a Shetland pony.
The couple celebrated Edinburgh and its people during a whirlwind tour of the Scottish capital, which began with a walkabout at the city's famous castle which dominates the skyline.
Ms Markle reportedly told one well-wisher her hen do was "sorted" while another well-wisher Tom Martin said Harry's response to questions about his stag do was "I'm sure William's got something up his sleeve."
The prince and his bride-to-be also met Scotland's First Minister Nicola Sturgeon and were offered the services of a local band for their forthcoming wedding - if Ed Sheeran does not perform at the bash.
The American actress paid tribute to her Scottish hosts by wearing a Burberry coat featuring a design very similar to the famous Black Watch tartan.
Hundreds of well-wishers had braved cold and wet conditions outside the castle to meet the couple, who were carrying out their fourth joint engagement together.
On the eve of Valentine's Day, one amorous male well-wisher gave Ms Markle a bunch of roses and told her "Don't marry Harry, marry me" as she and Harry greeted crowds on the castle's esplanade.
After shaking hands, posing for photographs and sympathising with royal fans for enduring the weather, the couple were introduced to Corporal Cruachan IV, the mascot of the Royal Regiment of Scotland, by Pony Major Mark Wilkinson.
The nine-year-old pony is famed for trying to upstage the Queen when she visited Stirling Castle last summer by nibbling on her posy.
But he was on his best behaviour and spent most of his time nibbling on Harry's fingers in the hope of a treat.
Pony Major Wilkinson said: "They were asking about him, saying he's a wee star, he knows he's on parade and is showing off - they said it was lovely to meet him."
Later inside the castle at the historic Edinburgh Garrison, the prince and Ms Markle joined Sergeant Dave Beveridge, District Gunner, Royal Artillery, for the firing of the One O'Clock Gun - but had earplugs in place.
Harry and Ms Markle's whirlwind visit to Edinburgh also took them to the New Town to visit Social Bite, a social enterprise cafe which distributes 100,000 items of food and hot drinks to homeless people across Scotland each year, as well as employing staff who have experienced homelessness.
Prince Harry asked Josh Littlejohn and Alice Thompson, the co-founders of Social Bite, "when are you bringing this down south?" after the pair had explained how homeless people struggle to find employment without an address.
Later when speaking to staff in the kitchen, Ms Markle said she wanted to work there because it seemed "fun".
They were the latest in a string of high-profile visitors to Social Bite premises.
Hollywood star Leonardo DiCaprio stopped for lunch at Social Bite venture Home in Edinburgh's west end in November 2016 while the Duchess of Cornwall and George Clooney have been to Social Bite's Rose Street branch.
The couple ended the day at the Palace of Holyroodhouse, where they met the First Minister during a reception to celebrate the achievements of young people in Edinburgh.
A band from Impact Arts were among the performers and they made a tongue-in-cheek pitch to play at the royal wedding on May 19.
Band member Darren Telford said: "What we said was that a little birdie had told us that Ed Sheeran was going to be playing an upcoming wedding and if he couldn't make it we are free if they wanted."