Met Office Warns Spring Could Bring Arctic Snow And Ice
20 March 2017, 16:18 | Updated: 20 March 2017, 16:20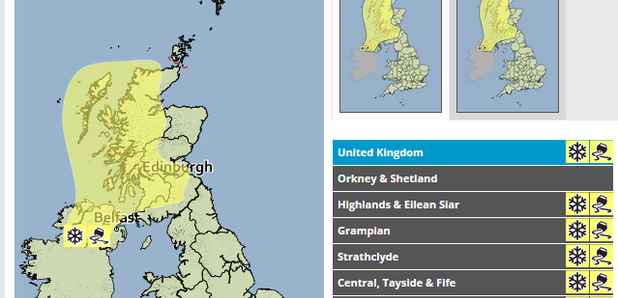 An Arctic blast could bring snow, hail and storm-force winds on the first official day of spring.
A cold front will sweep across the country on Monday night, followed by freezing air from the Canadian Arctic.

The vernal equinox on March 20 marks the beginning of spring for the Northern Hemisphere.

The Met Office has issued a weather warning for the north of the UK for snow and ice overnight on Monday and into Tuesday.

Up to 5cm of powder could fall in high altitudes in Scotland and Northern Ireland.

Forecaster Grahame Madge said: ''We've got a couple of cold fronts moving through during Monday afternoon bringing some rain.

''Behind the cold front, we've some quite cold air from the Canadian Arctic bringing much colder temperatures to parts of the UK.

''We have issued a yellow warning for snow and ice over most of Scotland and Northern Ireland.

''We've had high winds around the north coast of Scotland. There's been very strong storm-force winds that will be clearing northeast-wards.''

There will be a risk of snow on high ground in the north of England during the rest of the week before conditions improve on Saturday.

Mr Madge said: ''During the week, there is a likelihood we will see wintry showers in parts of north England as well on high ground and there will be a mix of hail, sleet and snow.''

Fine and sunny spells are forecast for the weekend, but temperatures could still fall below freezing overnight.