Minister Back Judy Murray's Dunblane Sports Centre Plans
30 August 2017, 18:13 | Updated: 30 August 2017, 18:19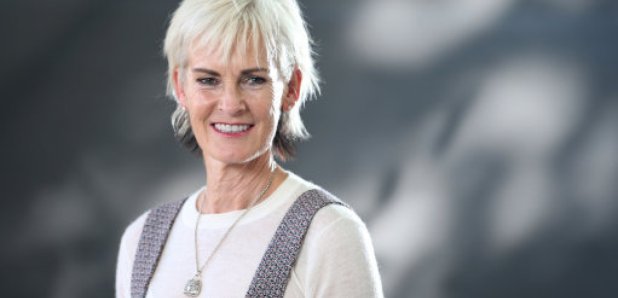 The Scottish Government has backed plans for a tennis and golf centre championed by Judy Murray despite the findings of a public inquiry into the development.
Ministers intend to grant planning permission in principle for the centre at Park of Keir, between Dunblane and Bridge of Allan, in the face of a critical report.
The proposals, which include 12 tennis courts, a golf academy, hotel and new homes, attracted high-profile backers including Sir Alex Ferguson and Colin Montgomerie.
The scheme was rejected by Stirling Council in December 2015 but a public inquiry was launched after the developers appealed to the Scottish Government.
The inquiry was heard in September by Scottish Government-appointed reporter Timothy Brian, who recommended the appeal be dismissed.
In a report penned in December, he concluded that "a development of this scale ... would seriously erode the openness of the green belt between Dunblane and Bridge of Allan, and have a significant negative impact on its core role and function to maintain the separate and distinct identities of these towns and to protect their landscape settings".
He added that the proposals "are contrary to policies which aim to protect the green belt and special landscapes, avoid inappropriate development in the countryside, reduce dependency on the private car and promote sustainable forms of development".
Mr Brian concluded he was "not persuaded that there is a compelling local need for a new tennis complex at Park of Keir" nor "that a national centre to develop coaches, train elite players and host competitions would be best developed in a countryside location away from Scotland's main centres of population".
In their decision, Scottish ministers said they "do not support the reporter's recommendation to refuse this appeal".
Local government minister Kevin Stewart said: "I have concluded that the development is of significant regional and national significance.
"It will bring strong benefits to Scottish sport, helping in the development of elite competitors, while also providing facilities for the community.
"There will also be economic benefits, both to the local area and more widely.
"The next step is for the planning authority and developer to work together to agree to discharge the planning obligation.
"Once Scottish ministers are satisfied, they will then be able to formally grant planning permission for the proposal."
The conditions include a commitment from the developer to contribute to affordable housing and education in the area, an agreement that no further housing will be built on the site and that the sports facilities are affordable and accessible to the general public.
Ms Murray has said she wanted to create a legacy to the success of her tennis sons Andy and Jamie but the development attracted more than 1,000 letters of objection.
Green MSP Mark Ruskell, who represents Mid Scotland and Fife, said he was "bitterly disappointed" with the decision.
"For 30 years communities have successfully fought to protect this precious landscape from property developers, it's totally unsuitable for housing, but local plans and the conclusions of a lengthy public inquiry have been ripped up by the Scottish Government," he said.
"The proposal will not make Park of Keir a national centre for tennis or golf, it's about as far away from deprived communities who need local facilities as you can get, this decision has more to do with appeasing celebrities and developers with deep pockets than securing a sporting legacy."
Responding to the decision, Ms Murray said: "I am thrilled to bits about this decision and the opportunity it gives us to create a brilliant community sports facility in our hometown of Dunblane.
"I'm passionate about creating a lasting legacy from the successes of Jamie and Andy, and about getting more people playing and teaching sport.
"I want Scotland to be a healthier and more active nation, and I can't wait to start developing the plans with the local community and the various governing bodies."
Alston Birnie, of developer King Group, added: "We can now get on with delivering an exciting legacy to the achievements of the Murray family and at the same time create a tremendous community facility that will be of benefit to both young people and families from all over Scotland for many generations to come.
SNP MSP for Clackmannanshire and Dunblane Keith Brown said: "This announcement brings clarity on this project for local communities.
"I am aware that the decision taken will be very disappointing for many local people, whose views I have ensured have been fully represented throughout the process.
"As the plans develop further, I will continue to ensure that all my constituents views are represented and that the conditions imposed by the minister, which appear to address some of the main concerns raised, are adhered to."