MND Campaigner Gordon Hailed As 'Inspirational' After His Death Aged 31
3 February 2017, 17:21 | Updated: 3 February 2017, 17:41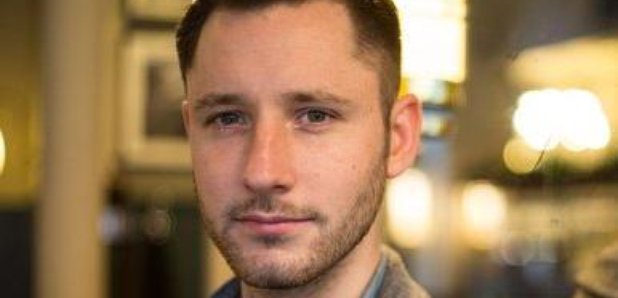 The ''inspirational'' motor neurone disease (MND) campaigner Gordon Aikman has died aged 31.
Mr Aikman was just 29 and working as director of research for the Better Together side during the 2014 Scottish independence referendum campaign when he was diagnosed.

His husband Joe Pike announced his death on Twitter, saying: ''My beautiful husband @GordonAikman has died. We are all heartbroken. He was my best friend, my soulmate and the love of my life.''

Following his diagnosis, Mr Aikman formed the Gordon's Fightback campaign, successfully lobbying the First Minister to double the number of MND nurses and fund them through the NHS.

He also raised more than £500,000 for research to help find a cure for the terminal condition.

His family said in a statement: ''We are heartbroken. Gordon was beautiful, kind, funny and utterly determined. He achieved more in the few short years after his diagnosis with MND than many of us do in a lifetime.

''Gordon's campaigning and fundraising has truly inspired people, changed lives across Scotland, and we are so proud of him. We will miss him terribly.''

Mr Aikman, from Kirkcaldy in Fife, received a British Empire Medal in the Queen's Birthday Honours in 2015 and an honorary doctorate from the University of Edinburgh in the same year for his work to transform care for people with MND and his efforts to find a cure.

Following campaigning by Mr Aikman and the charity MND Scotland, MSPs also backed changes to the law that will give people who are at risk of losing their voice as a result of a medical condition the right to access voice equipment on the NHS.

Mr Aikman worked as a senior adviser to the Scottish Labour Party, and figures from across the political spectrum have paid tribute to him.

Scottish Labour leader Kezia Dugdale said: ''I am utterly bereft. Although we all knew time was precious, Gordon's death comes as a shock.

''I have lost a best friend and the world has lost a man who made it a better place. I will keep Gordon's husband Joe and all his family in my thoughts and prayers. The wedding of Gordon and Joe was one of the happiest days of my life. I will treasure those memories.

''I will miss Gordon's smile, his laugh, his energy, his brilliant dance moves and terrible singing voice, and his positive outlook on life despite the hand he was dealt towards the end.''

First Minister Nicola Sturgeon tweeted: ''I'm so terribly sad to hear that @GordonAikman has died. He faced adversity with incredible courage and did so much good for others.

''Gordon's campaign to raise awareness of @MNDScotland and achieve better care and treatment for those diagnosed was inspirational.''

Former prime minister Tony Blair spoke of his sadness following Mr Aikman's death.

''He was a truly vital and remarkable man and I am proud to have known him,'' he said.

''Gordon showed tremendous courage and determination after he was diagnosed with motor neurone disease.

''He refused to be defeated and instead campaigned tirelessly on behalf of fellow sufferers and wrote movingly about his own experiences in dealing with this terrible disease.''

MND is a rapidly progressing terminal illness, which stops signals from the brain reaching the muscles. This may cause someone to lose the ability to walk, talk, eat, drink or breathe unaided. There is currently no cure or effective treatment for the illness.

Anyone who would like to support Mr Aikman's campaign can do so at GordonsFightback.com, or text MNDS85 £10 to 70070.