Wintry Weather Continues To Take Its Toll
12 January 2017, 19:21 | Updated: 13 January 2017, 12:13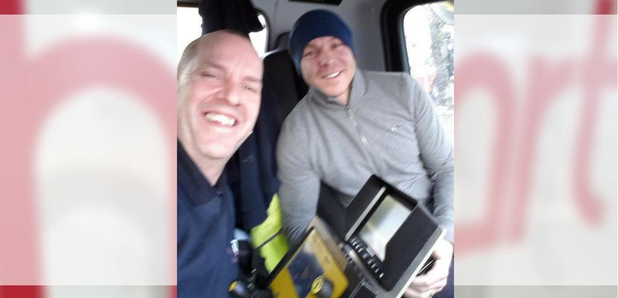 Wintry weather has continued to take its toll across Scotland with road closures, fallen trees and power lines down.
More than 2000 homes were left without power in the in Highland, Aberdeenshire, Moray and Angus areas as a combination of high winds, snow and fallen trees caused disruption with supplies.
Schools were also badly hit by snow and ice with 29 school closures in place in Moray, Aberdeenshire and Highland.
Met office "be aware'' warnings are still in place for many parts of the country with motorists facing road closures in Perthshire and the Borders.
A spokeswoman for the Met Office said the worst affected areas had been in the north of the country where 18cm of snow was recorded in Inverness-shire
She said: "It's going to be another cold day and night and there's a chance of seeing snow in Aberdeenshire tonight.''
Motorists also faced problems on the roads with closures in place on the A9 at Dalnacardoch, Blair Atholl and on A701 at St Ann's where the B7020 was closed in both directions after an accident.
Utility firm Scottish Hydro estimated 2000 properties were left without power in the area it covers.
A spokesman said: "We are looking at around 2000 customers across Scotland affected.
"The main areas affected are Highland, Moray, Aberdeenshire and Angus. We are well-resourced and did expect this.
"The north east and Highland areas had the worst of the winds and snow.''
The company thanked customers for their patience as supplies were restored and said it expected to have everyone back on supply later on Friday.
Snow showers are expected to be less frequent over the weekend but temperatures will remain low.
Among the drivers caught up in the snow on Thursday was Olympic champion cyclist Sir Chris Hoy, who took to Twitter to thank a gritter driver who helped tow his car out of a snow bank in the south of Scotland.
He wrote: "Thanks 2 the kind gent who towed my car out of a snow bank today after I hit black ice. Thankfully no harm to me or car but be careful folks!''
RAC spokesman Simon Williams said: "Motorists all over the UK are facing very challenging driving conditions from the full array of winter weather.
"Driving in rain, snow and ice is a real danger so the best advice is to drive more slowly, leave far more space behind the car in front than normal, and expect the unexpected.
"If you are unlucky enough to find yourself slipping and sliding on the road, change to a higher gear to gain traction, be gentle with the accelerator and you should keep control.
"Also, remember to give yourself more time to brake and apply the pressure on the brake steadily. ''