Motorists Warned As More Roadworks Planned For M8
3 February 2017, 11:26 | Updated: 3 February 2017, 12:17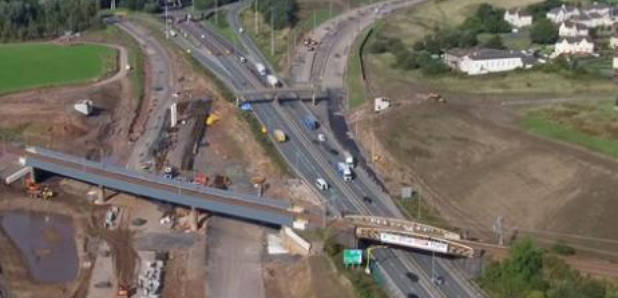 Drivers face more delays on Scotland's busiest motorway with a further round of roadworks.

Diversions will be in place on both sides of the M8 near Baillieston Interchange for around 10 weeks from February 17.
Transport Scotland warned motorists to expect "significant delays'' on the M8/A8 corridor, M73 and local roads near the junction.
Vehicles will be diverted via the new A8 alignment while work is carried out to connect a newly built part of the M8 to the existing motorway.
The work will include raising part of the road to complete the M8 "missing link'', allowing the new M8 between Baillieston Interchange and Eurocentral to open to traffic for the first time.
Speed restrictions have been in place in the area for months as work on the new section of road continues.
Graeme Reid, project manager for the M8 M73 M74 motorway improvements project, said: "Whilst delays are inevitable on a project of this scale and complexity, and the impact this has on the travelling public is regrettable, these works are necessary to complete the M8 missing link, and road users can look forward to realising the benefits of the new motorway when it fully opens to traffic upon completion of these works in spring 2017."
"This is the most significant peak time traffic management we have implemented as part of the works, and we are anticipating major delays on all approaches to Baillieston Interchange and the surrounding roads.''
When the M8 fully reopens, Transport Scotland expects traffic to ease by a quarter with local traffic using the A8.
it is hoped the works will improve journey times during peak periods on the M8 by around 20 minutes.
Police Scotland Chief Inspector Craig Linton said: "I would remind motorists of the reduced speed limits which are still in place which are necessary to ensure that drivers are able to cope safely with the inevitable effects of the roadworks such as narrowed lanes, changing lanes, contra-flow and construction traffic.
"As an additional safety measure, highly visible average speed cameras will cover the area of the works to encourage motorists to respect the reduced speed limit.
"Please be aware that diversions are likely to be busier than normal due to the works, and I would ask people to plan ahead, build in more time for your journey if necessary and drive appropriately for the conditions.''