Mum's Plea To Find Son's Killers
7 December 2018, 14:47 | Updated: 7 December 2018, 14:50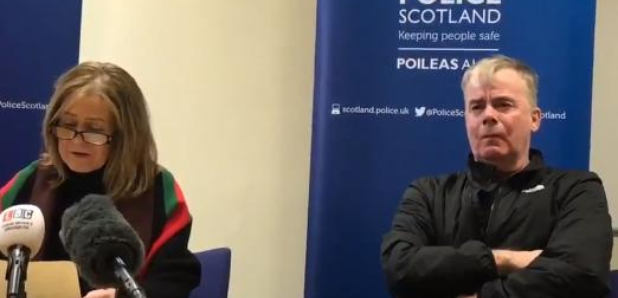 The mother of a "loving" father who was murdered near her pub has made an emotional appeal for information to help catch her son's killer.
Owen Hassan, 30, died in her arms as she performed CPR on him on the doorstep of the bar in Shawlands, Glasgow.
Police said two men hid behind the Old Stag Inn in Greenview Street waiting for him and then attacked him with bladed weapons in a "vicious and sustained" planned attack on Wednesday November 7.
Mr Hassan's mother AnnMarie Lynch and his father Daniel Hassan attended a press conference with police in Paisley on Friday and they urged people to come forward with information.
She said: "It's now been four weeks since the death of Owen and life will never be the same again for myself or the rest of the family.
"I still can't believe that he's gone and expect him to walk through the door as he did every day. Owen was a loving father.
"On the night of November 7 he left three young children without a dad and was denied watching his son and two daughters grow up.
"I hope that no other family has to endure the experience and suffering and believe that someone out there must have information that could help catch the two men who violently killed my son.
"As a mother I beg anyone out there who has any information at all that could help catch these men to please contact police immediately.
"It won't bring Owen back but at least I will know that they can't hurt another family the way they've hurt mine."
Mr Hassan, whose three children are aged under 10, met a friend for dinner in Oro in Kilmarnock Road on November 7 and left around 5.30pm.
Police are trying to establish what the 30-year-old did between leaving the restaurant and arriving at the Old Stag Inn at around 10.20pm.
He left the pub shortly afterwards and was chased by two men who attacked him.
Detective Chief Inspector Martin Fergus said: "We know that the two individuals secreted behind the Old Stag Inn on the night in question at the back of 10 o'clock that night were clearly awaiting Owen Hassan.
"What we know is that Owen Hassan attended the pub for a few moments that night to engage with his mother, however on leaving the pub he was attacked viciously by these two individuals with bladed weapons.
"Subsequently he died on the doorstep of his mother's public house in her arms as she attempted CPR and I would appeal to anybody on the back of this appeal made by AnnMarie.
"At this time of year a mother and her grandchildren have now been left without a father and I would ask if anyone has any information please get in contact with us regarding this murder.
"It was a vicious and sustained attack. Police Scotland have worked tirelessly in an effort to catch those responsible but we always need the public's assistance in relation to these inquiries."
Anyone with information is asked to contact police on 101, quoting reference number 4167 of November 7 or Crimestoppers on 0800 555 111 where anonymity can be maintained.