Murray Enjoying Lendl Reunion
15 June 2016, 06:32 | Updated: 15 June 2016, 06:33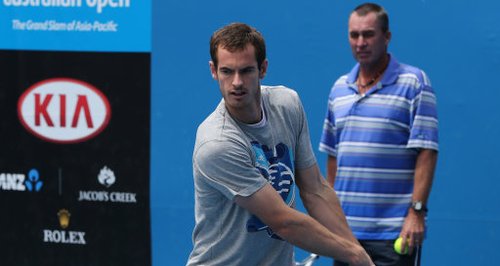 Andy Murray admits it feels like Ivan Lendl never left after the pair's player-coach reunion got off to a winning start at Queen's.
Lendl, who flew in on Monday, was out practising with Murray on Tuesday morning and watching on courtside as his pupil overcame Nicolas Mahut 7-6 (10/8) 7-6 (7/1) in the first round of the Aegon Championships.
Murray will now face Aljaz Bedene on Thursday in an all-British clash as both players continue their grass-court preparations for Wimbledon in a fortnight's time.
It will be the only time Murray has ever faced a British opponent at tour level on home soil and the first time anywhere since he lost to Tim Henman in Bangkok in 2006.
The world number two will be in confident mood after surviving four set points against Mahut, a tricky customer on grass and who beat Murray at Queen's in 2012.
On the morning of the match, Lendl seemed to be making an instant impact, directing Murray's practice session and frequently approaching the Scot to offer advice.
"It's great to have him back as part of the team, obviously,'' Murray said.
"It's good to chat. When we were chatting sort of before the match, it didn't feel strange. It felt like it did before. I think it's a positive thing.
"Obviously I don't play tomorrow (Wednesday), so it'll be good to get a good, proper practice session in tomorrow. Hopefully we'll get a few hours on the court and work on a few things.''
Murray's first spell with Lendl was the most successful in his career as he won Olympic gold, the US Open and Wimbledon, before the Czech ended the partnership, much to the Briton's dismay, in 2014 due to commitment issues.
Reunited, Lendl watched in his dark sunglasses, despite murky skies and damp conditions that left both players feeling unsure underfoot.
Playing after two days of frequent rain, Mahut took two nasty tumbles while at one stage Murray pointedly asked umpire Fergus Murphy, "so as long as the weather is fine, we keep playing no matter how slippy the court is?'' He later groaned, "It's always the same.''
Murray later explained: "Normally at the beginning of the event here, the courts are pretty slippy and you just feel uncomfortable moving.
"A lot of guys fall over. I don't know over the years how many injuries there has been here but I do think, as well, just because I have not had much time on the grass you feel even more sort of unsure on your footing.''
Treacherous conditions aside, Murray showed glimpses of why he still considers grass his most favoured surface, chipping and charging into the net, and unleashing a number of brilliant passing shots Mahut could only watch sail past.
The Frenchman, fresh from winning the Ricoh Open in Holland last week, was far from outclassed, however, and had he taken one of four set points, including three in the second set, the upset would have been possible.
"It was a good win,'' Murray said. "Nicolas is a very good grass court player, coming off winning an event just yesterday. So he's confident and has played a lot on the grass.
"I haven't really hit many balls on the grass the last few days, and the balls that I have hit there's been very little, limited movement not being able to play any points really at all.
"So to get a win against a player as good as him on grass, not loads of preparation, is a good win.''