New war memorial damaged in Glasgow vandal attack
31 August 2018, 18:38 | Updated: 31 August 2018, 18:40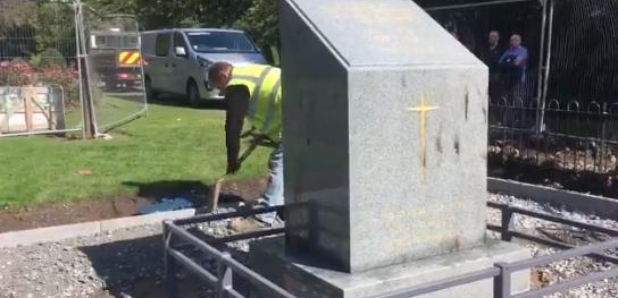 A war memorial due to be unveiled in Glasgow next month has been torched by vandals.
Police were called to Alexandra Park, Dennistoun, on Friday morning following reports the memorial under construction had been damaged.
Its tarpaulin covering was burned, with the group behind the commemorative project saying it looked like it had been "petrol bombed".
The tribute was organised by community members to honour the area's war dead in the centenary year of the end of the First World War.
Designed by a local schoolboy, it was due to be unveiled at the end of September.
A Police Scotland spokeswoman said: "Shortly after 7am officers attended Alexandra Park following a report that a war memorial under construction had been vandalised.
"Tarpaulin covering the structure had been burned.
"Inquiries are ongoing and anyone with information is asked to contact Police Scotland via 101."
Jim Watson, chairman of the Dennistoun war memorial committee, said the burned tarpaulin had stuck to the memorial and gold paintwork had been damaged.
Mr Watson told BBC Scotland: "It looks as if it has been petrol bombed. I am devastated and upset.
"I am also sad that people could stoop so low when this is a memorial for the whole community.
"It is disgusting. I am kind of lost for words."
Glasgow North East MP Paul Sweeney, Labour, said: "I am saddened and disgusted to hear that the new Dennistoun War Memorial was attacked last night.
"This horrendous and seemingly pre-meditated act of vandalism against the memorial, which has only just been installed, is appalling.
"The community have put a huge amount of effort into this project over several years to commemorate local heroes who made the ultimate sacrifice a century ago."
He added: "This attack cannot harm the spirit in which the committee was established, to honour those who gave their lives for others in the service of their country."