Nicola Sturgeon Extends First Minister's Reading Challenge
2 March 2017, 06:39 | Updated: 2 March 2017, 07:36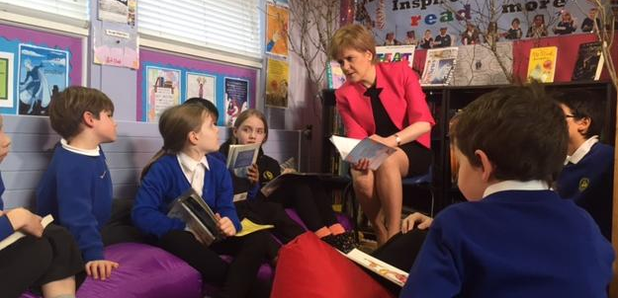 A project aimed at giving Scottish school children a love of reading is being extended, Nicola Sturgeon has announced.
Youngsters in P1 to P3 will now be able to take part in the First Minister's Reading Challenge after the ''fantastic success'' of the project with older pupils.
The scheme, which can see children pick up awards for the number of books read and other related work, was originally open to youngsters in P4 to P7.
Ms Sturgeon announced the expansion ahead of a visit to Prestonfield Primary School in Edinburgh to mark World Book Day.
She said: ''The First Minister's Reading Challenge has been a fantastic success since it was launched last year, with almost three-quarters of schools across Scotland taking part.
''Reading is one of life's greatest pleasures, and the Reading Challenge is opening up a world of adventure and fun for young people as well as giving them vital literacy and language skills.
''Education is, and will always be, a key priority for this Government and I passionately believe that the Reading Challenge is an important addition to the investment of £750 million over the next five years in measures and reforms to close the attainment gap in Scotland.''
Prestonfield headteacher Fiona Murray: ''The children love taking part in the First Minister's Reading Challenge and have read a far greater number of books as a result and really pushed themselves to tackle more challenging texts.
''We do lots of buddy reading in school where older children regularly read together with younger children. These opportunities not only encourage a real love of reading and improve literacy but also help children form positive relationships, build confidence and develop a sense of shared responsibility.''
Marc Lambert, the chief executive of Scottish Book Trust, stated: ''We know reading for pleasure can increase empathy, reduce stress and improve wellbeing. All the research also shows that children who read for pleasure tend to do better at school.
''The message here is simple - happy readers make good learners. So it's fantastic that more children across Scotland will now be able to take part in the Reading Challenge, and will be supported to develop a love of reading that should benefit them for years to come.''