Nicola Sturgeon reveals 'huge sadness' over Salmond situation
30 August 2018, 07:21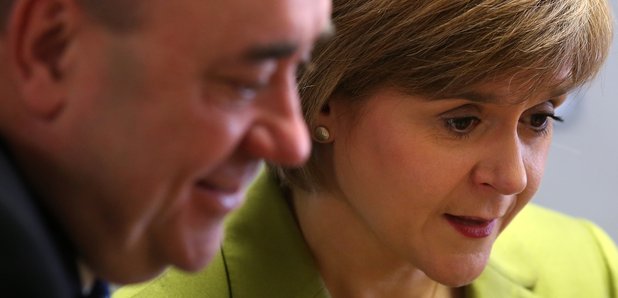 Nicola Sturgeon has spoken of her sadness after Alex Salmond, her mentor for three decades, resigned from the SNP.
The First Minister and SNP leader spoke of an "incredibly difficult" few days for the party and said she understands why Mr Salmond has chosen to resign his membership.
She also reiterated her stance that the two complaints received by the Scottish Government could not be ignored.
In a statement, Ms Sturgeon said: "I feel a huge sadness about this whole situation. Alex has been my friend and mentor for almost 30 years and his contribution to the SNP and the independence movement speaks for itself.
"While the decision to resign has been Alex's alone, I understand why he has chosen to separate the current questions he is facing from the day to day business of the SNP and the ongoing campaign for independence."
She continued: "These last few days have been incredibly difficult for the party and, I am sure, for those involved in the complaints that have been made to the Scottish Government. I appreciate that they will have been difficult for Alex too.
"However, the hard fact remains that two complaints were received by the Scottish Government that could not be ignored or swept under the carpet. Complaints must be investigated without fear or favour, regardless of the seniority of the person involved.
"I know party members will be upset by this news, just as I am. I also know there are many questions that can only be answered in the fullness of time. It is important now that any legal processes are allowed to take their course."
Meanwhile, opposition parties have attacked Mr Salmond's crowd-funding campaign.
A spokesman for the Scottish Conservatives said: "The fact he now has the brass neck to publicly crowdfund in the same breath as seemingly doing the right thing is astonishing.
"Scotland now faces the incredible and unprecedented situation of its most famous former First Minister appealing to SNP supporters for cash to take legal action against the government he used to run."
Scottish Labours Rhoda Grant MSP, said it was "unbelievable" that he would pursue such a move.
She said: "It suggests that he is sending a signal to those who have made allegations that he has the upper hand.
"Decent people will rightly be furious that he is to raise money to take the Scottish Government to court. Alex Salmond is abusing his power, and dragging Scotland into the gutter."