Obituary: Charles Kennedy 1959-2015
2 June 2015, 19:14 | Updated: 2 June 2015, 19:35
Less than a month ago Charles Kennedy said that serving as an MP had been the "greatest privilege" of his life.
After 32 years in the House of Commons, the 55-year-old - who had fought a very public battle with alcohol - was ousted from his Ross, Skye and Lochaber constituency as the SNP swept the board in May's general election.

Mr Kennedy was one of several high-profile Liberal Democrat casualties in what was a dismal night for Nick Clegg's team, with both Vince Cable and Danny Alexander also losing their seats as the party saw its tally of MPs fall to just eight.

Despite the defeat, Mr Kennedy had at the time vowed to continue in politics.

After the result was announced, he said be would "personally be sorry not to be a voice in the Commons" before adding that he intended to "contribute in whatever way possible to the wider political debate and the activity of the Liberal Democrats".

He said: "The greatest privilege of my public life over these past 32 years has to be being entrusted with the responsibility of representing this constituency.

"That is thanks to a generation and more of voters who have extended that trust to me and I hope, looking back over those 32 years, they will feel that it was trust well placed."

When he was first elected as the Social Democratic Party (SDP) MP for the area Mr Kennedy was the youngest member in the House of Commons at that time.

Political life was very different then.

"When I was first an MP in 1983, most Members of Parliament at the House of Commons did not possess a fax machine," he recalled.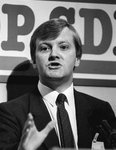 "There was no 24-hour television news, breakfast-time television scarcely existed."

The SDP went on to merge with the Liberal Democrats, and Mr Kennedy eventually became the party leader.

The man who was nicknamed "Chat Show Charlie" - in part a reference to his appearance on shows such as Have I Got News For You - took over the leadership in 1999 from Sir Paddy Ashdown.

Mr Kennedy will perhaps be best remembered for his vocal and principled opposition of the 2003 invasion of Iraq.

But his period in charge was brought to an end in January 2006, just days after he publicly admitted he had a problem with alcohol.

Born in Inverness, Mr Kennedy was educated at Lochaber High School in Fort William before going on to Glasgow University - and was later elected by students there to be their Rector.

Following his graduation from university in 1982, he worked as a journalist and broadcaster in Inverness.

The following year he was working towards a PhD at Indiana when he had the chance to put himself forward as the SDP candidate for the Ross, Cromarty and Skye seat in the general election.

The 23-year-old student made a flying visit home, won the ballot and less than six weeks later was elected to the House of Commons to become the youngest MP of the time.

His sharp Commons performances, coupled with his deft handling of the demise of the SDP, won him the presidency of the Liberal Democrats in 1990, and a prominent post as the party's trade and industry spokesman.

In 1999 he took over as Liberal Democrat leader, with his period in the job marked by his opposition to the war in Iraq.

"Without a second UN resolution, there is no way that the Liberal Democrats could or should support war," he said at the time.

In the 2005 general election he led his party to one of its best results, increasing the number of Lib Dem MPs to 62. It seemed to most people to be the successful culmination to an energetic and skilful campaign.

But within weeks of this, some of his senior colleagues were privately and publicly criticising his leadership, saying the party had failed to win many of its specially targeted seats.

That unpleasant whispering campaign reared up again in the final weeks of 2005 and the early days of 2006, largely, it is thought, because the Liberal Democrats feared they were likely to be overshadowed by new Tory leader David Cameron.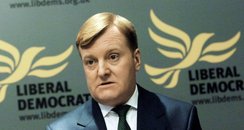 But in January 2006 - following months of rumours about his drinking - Mr Kennedy dramatically admitted he had been receiving treatment for an alcohol problem and said he was calling a leadership contest.

While he declared that he wanted to carry on, he was forced to stand down in the face of the threat of mass resignations by senior colleagues.

After stepping down as leader, he continued to play a high-profile role in the Scottish politics, campaigning against independence in the run-up to last year's referendum.

He was ousted from the House of Commons after 32 years in May, one of many in politicians north of the border to be beaten by the SNP as the nationalists won an unprecedented 56 of the 59 Scottish constituencies.

Rather than being a night of the long knives, Mr Kennedy described it as being the "the night of long sgian dubhs", referring to the ceremonial daggers worn as part of traditional Highland dress

While he said his problem with alcohol had been "resolved", rumours about his drinking continued - most recently with some questioning his condition when he appeared on Question Time in March this year.

Mr Kennedy is survived by his former wife, Sarah, and their son, Donald.