Over 1,000 Check Partner's Domestic Abuse History
1 October 2016, 10:00 | Updated: 1 October 2016, 11:14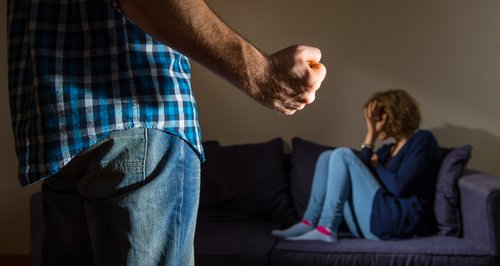 The first year of a scheme to let people find out if their partner has a history of domestic abuse has seen police receive more than 1,000 requests for information.
The initiative, known as Clare's Law, was rolled out across Scotland on October 1 last year following a trial period in Ayrshire and Aberdeen.
It is named after Clare Wood, who was murdered by her ex-boyfriend in Greater Manchester in 2009 and had been unaware of his history of violence against women. A similar scheme was introduced in England and Wales last year,
Police Scotland said it has received 1,044 applications for information in the first 12 months of the initiative, formally known as the disclosure scheme for domestic abuse in Scotland (DSDAS).
Of those, 371 people were informed about a partner with an abusive past.
A further 72 people were told there was no information to disclose but they were encouraged to remain vigilant.
This means a total of 443 people received some form of disclosure following requests for information.
No disclosures were made for the remaining 601 applications.
The Scottish force says about 20% of police time is spent dealing with domestic abuse incidents and they receive a domestic abuse call once every nine minutes, on average.
Nearly 60,000 such incidents were reported to Police Scotland in 2014/15.
Chief Constable Phil Gormley said the project is part of a long-term approach to supporting potential victims of the "despicable crime".
He said: "In some instances, such a disclosure can break the cycle of violence and abuse, protecting many people.
"Working with our partners, we continue to support people through the disclosure process and to prevent people becoming victims.
"Police Scotland will not tolerate domestic abuse - we will tackle it and we aim to prevent it destroying the lives of its victims, as well as those of children, who all too often witness such abuse."
Scottish Women's Aid welcomed the evidence that the scheme is being used by both police and women.
Justice Secretary Michael Matheson said the initiative has the full support of the Scottish Government.
He said: "Domestic abuse is an abhorrent and inexcusable crime. It robs victims of their right to have a normal, happy life and, in the worst cases, it can result in their life being taken away completely.
"The scheme sends a strong and unequivocal message that domestic abuse is unacceptable, and that we are committed to action that can help to reduce the risk of further harm."
Under the scheme, a person can make a direct application to police for information about an individual.
Any concerned third party, such as a parent, relative, neighbour or friend can also make the application on someone's behalf.
Any necessary disclosures are then made to the potential victim or someone in a position to protect that individual.
Mr Gilmour said the world of boxing had lost both a top fighter and a "very special man", and described him as one of the best he had ever worked with.
He said: "He was Iron Mike to the end, he kept fighting till the last, and we have lost an exciting boxer but, more importantly, a very special man.
"I am devastated and all my thoughts are with Mike's mum Tracey, his partner Chloe and their little son Rocco.
"He was one of the greatest characters I have worked with, I came away from every phone call or chat we had smiling and shaking my head in bewilderment."
Iain Wilson, owner of St Andrew's Sporting Club, who was with Towell and his family following the fight, added: "He wasn't just a fighter at our club, he was my friend and a special heart-and-soul guy. I was with the family through the night after the fight, they are heartbroken and everyone at the club shares their grief.
"We have lost one of our favourite sons and boxing has lost an explosive talent but the biggest loss of all is for the Towell family. We will rally round them now to do all we can."