Paisley Misses Out On Culture Title
8 December 2017, 09:19 | Updated: 8 December 2017, 09:20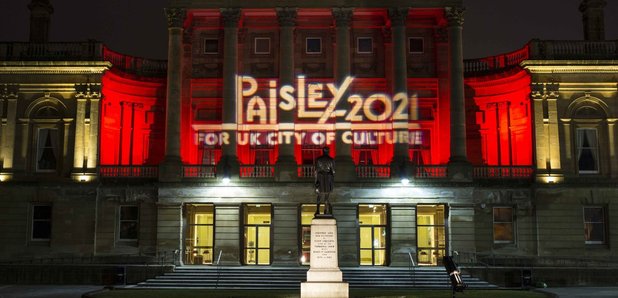 Paisley has "won" despite not becoming the UK City of Culture 2021, according to organisers.
Coventry took the title, beating off competition from the Renfrewshire town, Stoke-on-Trent, Sunderland and Swansea.
After a four year campaign, those behind the bid believe Paisley has benefited and are positive its progress will continue.
Renfrewshire Council Leader and chair of the Paisley 2021 Partnership Board Councillor Iain Nicolson said: "Naturally disappointed, but we're in a competition and in any competition there's a potential not to win.
"We didn't plan to lose, we were aware of it, but we have planned for the aftermath.
"There's a lot of planning which has went into maintaining momentum and energy into.
"There's no doubt about it, Paisley has won through this process.
"It's on a national platform, it's raised its profile and everyone in Paisley is on a buzz from being in the competition."
The preparations in the event of a loss included plans for investment into buildings, facilities and communities.
There is also potential for the town to bid again for a future UK City of Culture title.
Visual artist Mandy McIntosh said: "I know that the momentum will continue. There are things in place that were going to happen anyway, with or without the bid.
"The other thing is, I know that the consciousness has been raised in Paisley. People are very much more aware of their potential and their creative capacity.
"So I feel alright, I feel better than I thought (I would)."
Jamie Mallan, of the town's Tannahill Centre, said: "I'm gutted, I can't take that away. But Mandy's right, there's been so much work put into this.
"We're not going to be the City of Culture in 2021, but in four years' time there has been a massive investment to our arts and infrastructure.
"People in Paisley will be engaging with arts in different ways than they have been in the past."
The official bid page for Sunderland UK City of Culture 2021 tweeted a collage saying "Thank you Sunderland", along with the message: "It wasn't to be, but we certainly gave it our best shot!
"Well done and thank you to everybody in Sunderland who put so much energy and passion to this. We know it will bring amazing things to the city regardless. This is just the beginning! Everyone is still #WelcometoSunderland."
While Stoke-on-Trent's account posted: "What a ride it has been. Yes we didn't win but it's safe to say this is definitely not the end.
"With so much energy, support and pride shown by this great city for the bid we know that we will continue with all the great work that has started. S-o-T is always our city of culture."
Tracey McNulty, head of cultural services at Swansea Council, said: "Of course we're disappointed, we had a strong bid, with credible partnerships and ambitions, and we wanted recognition for that - who wouldn't? But of course, we'd like to send our heartfelt congratulations to Coventry who were a formidable opponent - we wish them all the best for 2021.
"We'd also like to congratulate our other three competitors on their bids and campaigns. It was a tough competition and we were very much in it to win it.
"People in Swansea and beyond all engaged in a fantastic campaign of support and, at the very least, we have demonstrated to others - locally, regionally, nationally and internationally just how far we've come as a city. And importantly, just how far we intend to go."