Parachute fail wife refuses to believe husband tried to kill her
27 May 2018, 07:29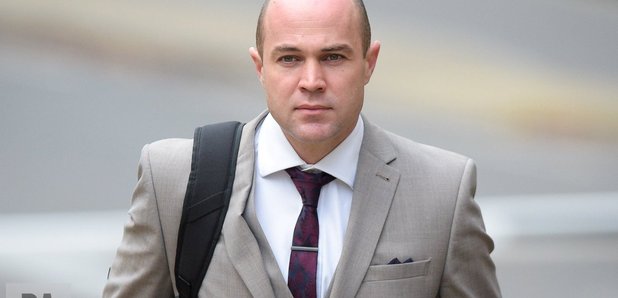 A mother who cheated death when her Army sergeant husband sabotaged her parachute has not told their children he could face life in jail for attempted murder.
Victoria Cilliers said she has told her two young children that their father Emile Cilliers "has done a bad thing", but not that he tried to kill her twice.
She told the Mail on Sunday and the Sunday Mirror that she does not believe he is guilty.
"My family, friends, everyone seems to think they know more than I do," she said.
"They see different evidence to me."
She said her children "need a happy, well-adjusted life", and added: "I want boring and normal for us now, for them to grow up untainted.
"One of the hardest things to deal with has been our daughter's questions and her hurt.
"She still asks regularly: 'Where's Daddy? When am I going to see him? Why can't I speak to him on FaceTime?'"
Cilliers, who had "out of control" debts racked up by taking his lover on expensive holidays, first attempted to kill his wife by tampering with a gas valve at their home in Amesbury, Wiltshire, at the end of March 2015.
Their young daughter and son were both in the house with their mother at the time.
Cilliers, who was also in contact with prostitutes and having sex with one of his ex-wives, made a second attempt on her life by sabotaging both her main and reserve parachutes, causing her to fall 4,000ft to the ground, which she "miraculously survived".
Mrs Cilliers, a highly experienced parachuting instructor, suffered near-fatal injuries in the failed jump at the Army Parachute Association at Netheravon, Wiltshire, on Easter Sunday, April 5 2015.
She told the newspapers that she does not believe her husband tried to kill her: "He was my husband. Yes, things might have been breaking down.
"He'd been unfaithful, he'd had issues with money, but that is not attempted murder."
She said she dreads the day that their son discovers Cilliers lied to his mistress and said he was not his biological father.
"I can live with his lies, it's the betrayal of my children which is the hardest to bear," she added.
Cilliers, 38, of the Royal Army Physical Training Corps, is awaiting sentence for two charges of attempted murder and a third of recklessly endangering life.
He was convicted following a retrial at Winchester Crown Court and has been remanded in custody until sentencing on June 15.