Police start firearms surrender campaign
18 June 2018, 06:37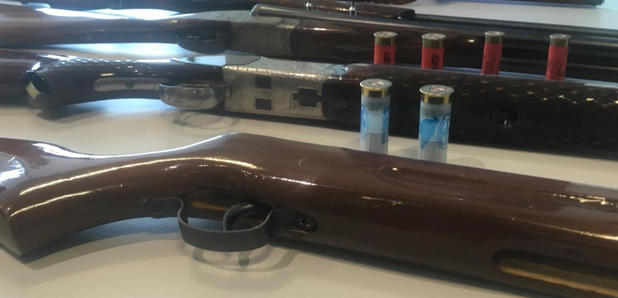 Police are launching a two-week gun amnesty to stop firearms falling into the hands of criminals.
Anyone who has a firearm or ammunition without a valid certificate can take it to one of 43 police stations around the country during the amnesty, which runs from Monday June 18 until Sunday July 1.
People will also be able to hand in replica firearms, air weapons, BB guns, imitation firearms, component parts and other ballistic items during the initiative.
Police hope the firearms surrender campaign will reduce the risk of weapons falling into the wrong hands.
Assistant Chief Constable Bernard Higgins said: "What we want to do is remove any firearm availability from the criminals that operate right across the country.
"There have been a lot of high profile incidents in recent times and we want to reduce the opportunity for individuals that are intent on using firearms within our communities to actually come into possession of these weapons.
"The people that will discharge firearms within the criminal world show an utter disregard for the safety of our communities and the safety of our citizens, so one of the things this surrender campaign hopes to achieve is actually to remove a whole bunch of weapons that if they fell into the wrong hands could do significant harm."
During the campaign people can hand in any firearms, whether someone has realised their firearms licence has expired, has unexpectedly discovered a gun while clearing out a house, or decides they no longer want to keep a lawfully held firearm.
Police have no idea how many weapons may be handed in, though they say it is unlikely to be anywhere near as high as the gun amnesty in England and Wales in November 2017 which netted around 7,500 firearms.
Anyone who surrenders a firearm will not be asked to give their personal details.
However police said that they reserve the right to investigate the history of the weapon if appropriate, to establish whether it has been used in any crime.
Lord Advocate James Wolffe QC said: "Anybody surrendering a firearm or other relevant item during Police Scotland's two-week campaign will not be prosecuted for simple possession of the item.
"The immunity only applies to handover of the weapon and not to any other offence it may be linked to after examination."
Justice Secretary Michael Matheson welcomed the amnesty.
He said: "Firearms offences are at historically low levels in Scotland. Nonetheless, there is always a risk that unused or unlicensed firearms could fall into the wrong hands.
"I therefore welcome Police Scotland's campaign to remove unwanted weapons from our communities, and would urge anyone who has a firearm that they have no good reason for keeping to take this opportunity to safely surrender it to the police."