Priest attacked during Orange Order Parade
9 July 2018, 17:15 | Updated: 9 July 2018, 17:17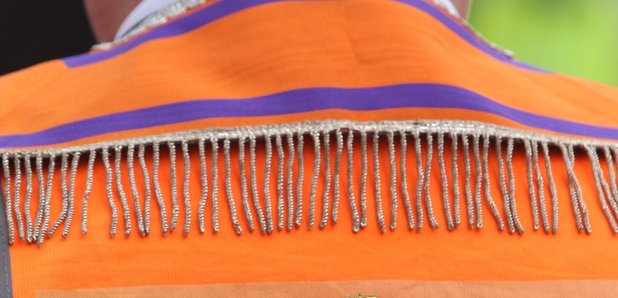 Police have appealed to members of an Orange Walk for witnesses to an attack on a Catholic priest as the parade passed his church.
Canon Tom White had been speaking to parishioners outside St Alphonsus Church in Glasgow on Saturday afternoon when he was spat on twice before being lunged at by a man with a baton.
The Archdiocese of Glasgow said that both Canon White and his parishioners had been "subjected to vile abuse" and Police Scotland are investigating the incident as a hate crime.
Officers are working to identify those involved in the attack and are trying to trace a man aged between 20 and 30 with a shaved head.
Police said "there is nothing to indicate any involvement of a member from the parade" but it remains one line of inquiry.
Canon White said he was called "Fenian scum" and "paedophile" during the incident.
The Grand Orange Lodge of Scotland said its members were not responsible and condemned "the bigoted actions of those involved".
Superintendent John McBride said: "We will not tolerate any form of hate crime and behaving in such a way is contemptible.
"I would like to assure everyone that those who choose to react in a sectarian or religiously motivated matter will be identified and dealt with under the law.
"The public can be assured we remain committed to ridding our country of hate crime and the bigots within it who think they won't be held to account for their actions. I can tell you they will."
He added: "From our enquiries carried out so far, we are aware of several people commenting online regarding this incident and I would urge anyone with any footage or information about this particular incident to contact us as the footage could aid our enquiries.
"I am also appealing to those who were taking part in the Orange Parade, who may have seen the incident as they were walking past, to contact us and pass on any information."
Politicians from all parties condemned the incident and the Archdiocese of Glasgow asked why the Orange Order is allowed to schedule "intimidating parades on streets containing Catholic churches at times when people are trying to get in and out for Mass?"
The Grand Orange Lodge of Scotland said: "We understand that abusive comments were directed at a local priest from a group of young men who were not part of the parade. We can confirm that no members of the parade were involved in this or any of the reported incidents.
"The Orange Order is founded on the principle of religious liberty and respect for people of all faiths. We totally condemn the bigoted actions of those involved and hope that they are dealt with to the full extent of the law."
A Glasgow City Council spokesman said: "We utterly condemn this appalling behaviour and urge anyone with any information on the incident to contact police.
"A meeting with council officials will be held this week to discuss ongoing issues.
"We will also continue to liaise with Police Scotland, organisers, the Scottish Government, third parties and stakeholders as part of the council's processions code of conduct."