Protesters out against Trump
13 July 2018, 20:34 | Updated: 13 July 2018, 20:38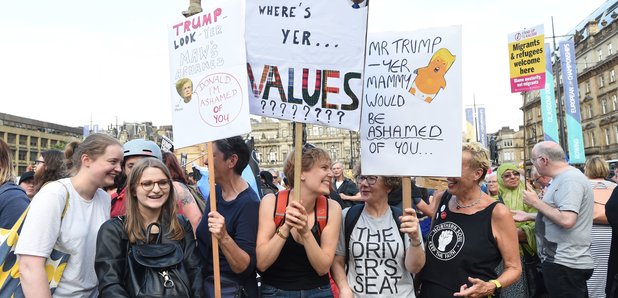 Thousands of people have gathered in Glasgow's George Square to protest against Donald Trump's visit.
Among the placards carried by campaigners were messages against the US president's policies including "Give the weans Irn Bru not iron cages" while others urged him to go home, with signs saying "Bolt ya rocket and make Scotland great again".
The protest took place before the controversial president had even touched down in Scotland.
Mr Trump is due to fly into Prestwick Airport for the private Scottish leg of his UK visit later on Friday.
But Scottish Labour leader Richard Leonard called on the billionaire tycoon to "rethink your whole political approach".
Speaking as he joined the crowds in Glasgow city centre, Mr Leonard said the cross-party, multi-faith demonstration would give people a voice.
"Today I think there's a carnival atmosphere. There will be music, poetry and also serious political speeches," he said.
"Lots of people will have a voice to show why they are protesting against Donald Trump's visit."
He added: "My message to Trump is to think again about racism, think again about your misogyny, think again about your Islamophobia, think again about climate change, think again about trade unions and workers' rights.
"Rethink your whole political approach and then there might be some possibility of there being some meaningful dialogue."
Scottish Greens co-convener Patrick Harvie said it was important to show Scotland as an ally of those against the US leader.
He said: "People want to stand here not just in revulsion at his attitudes but in solidarity with those in the US whose lives he puts at risk.
"We want to say our special relationship is with them, the people in the US, not with this vile bully in the White House.
"I don't think anything will immediately make a change to Donald Trump. He's such delusional, arrogant, vain person. He's entirely made of ego.
"But what this can make a difference to is the people in the US who are organising against him."
SNP depute leader Keith Brown later said the Glasgow rally was "important as it tells the world what Scotland thinks of the US president".
Mr Brown said: "This city and this country has got an extremely proud record of welcoming refugees and immigrants from all around the world, that's one of the defining aspects of Scotland and difference between us and Donald Trump."
He told the crowd: "Let's show Donald Trump what we think of his policies.
"Let's show what Scotland thinks of his immigration policies, of his anti-Muslim policies, of the way that he treats women.
"And let's show the world what Scotland thinks of Donald Trump."
With no meeting scheduled between the president and Scotland's First Minister, Mr Brown commented: "People are saying to me why is he not meeting Nicola Sturgeon?
"The reason is she would tell him what she thinks, unlike Theresa May."
And he questioned Mr Trump's assertion that the people of Scotland love him.
He asked: "Does Scotland love Donald Trump?
To the chorus of boos and shouts of no, he said: "I don't think Scotland likes Donald Trump very much."
The Glasgow protest is one of several planned to take place in Scotland this weekend, as Mr Trump makes a "private visit" to his Turnberry golf resort in Ayrshire.
A national demonstration is to take place at the Scottish Parliament in Edinburgh on Saturday along with a Carnival of Resistance in the Meadows area of the capital.
Campaigners will also gather outside the Trump International Golf Links in Balmedie, Aberdeenshire, on Saturday and it is predicted there could be further demonstrations at Trump Turnberry where the president is expected to play golf.