Protests Staged Across Scotland Against Trump Travel Ban
30 January 2017, 19:40 | Updated: 30 January 2017, 19:41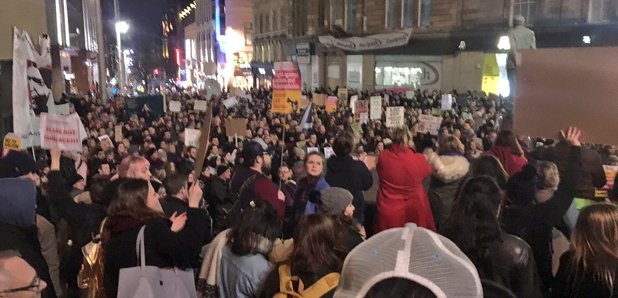 Cities in Scotland are staging protests against US President Donald Trump's travel ban.
Demonstrations have been held in Glasgow, Edinburgh, Aberdeen and Dundee on Monday evening.

Mr Trump signed an executive order on Friday banning entry to the US for nationals of seven Muslim-majority countries - Iraq, Syria, Iran, Sudan, Libya, Somalia and Yemen - for 90 days.

The order also suspended the US refugee programme for 120 days and banned Syrian refugees from the country indefinitely.

Stand Up To Racism Scotland organised the events in Glasgow and Edinburgh under the banner No Hate, No Fear, Stop Trump's Ban on Muslims and Refugees.

The organisation said: ''They have been called in solidarity with everyone in the US who is opposing Donald Trump's executive order which targets Muslims and refugees.

''Last week's demonstrations across the world show that large numbers are ready to stand up to Trump's racism and bigotry and this is an urgent necessity.''

Scottish political leaders have condemned the travel ban and said the president's planned state visit to the UK would be wrong while the order is in place.

First Minister Nicola Sturgeon tweeted: ''For those asking my view on US State visit: would be wrong for it to go ahead while bans on refugees & citizens of some countries in place.''

Scottish Tory leader Ruth Davidson branded the ban ''cruel and divisive'' and called for the president to immediately reconsider it, while Scottish Liberal Democrat leader Willie Rennie said a state visit would ''shame'' the UK.