Queensferry Crossing Bridge Deck Complete
3 February 2017, 15:15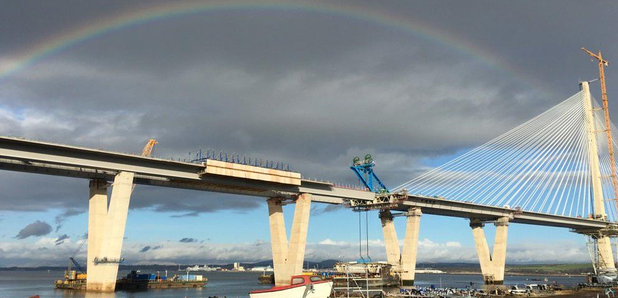 The last section of the new Queensferry Crossing has been lifted into place, completing the 1.7-mile link across the Forth.
The final segment of the bridge deck was slotted into place by engineers early on Friday afternoon.
The piece was the last of 122 deck sections which connect the Lothians and Fife and its installation means the bridge is now fully joined-up.
The £1.35 billion mega-structure, which is replacing the Forth Road Bridge, is scheduled to be opened in May.
Michael Martin, project director of Forth Crossing Bridge Constructors, said: "This is a massive milestone for the bridge today... it's a landmark moment for us.
"It's not the end of the bridge work, we still have a tremendous amount of work to do, but it's an opportunity to pause for a moment and reflect on a fantastic achievement.''
David Climie, project director at Transport Scotland, said: "We have been building up to this for a long time because we started deck lifting back in September 2015.
"This is the last piece of jigsaw of the main structure, so it's a really important day.''
With the bridge gaps closed, the project will move on to a new phase of "finishing works''.
These include electrical works, and the installation of more stay cables and 20,000 square metres of waterproofing.
Once complete, the structure will be the longest three-tower, cable-stayed bridge in the world, officials say.
The Forth and its weather conditions have created a challenging environment for the construction team building the tallest bridge in Britain.
Engineers had hoped to complete the bridge by December but that timescale slipped due to "adverse weather conditions'' affecting construction in April and May.
Project bosses recently announced that the team is working hard for the bridge to be opened in May.
Officials are also said to be "optimistic'' that the crossing will never have to close, due to the wind-shielding being fitted during the project.
Some 5,700 metres of 3.5-metre-high transparent shields are being installed along the bridge.
Last month, the existing Forth Road Bridge was forced to close for a day when a lorry was blown over, despite the bridge being closed at the time to high-sided vehicles.
When the Queensferry Crossing opens, the Forth Road Bridge will be retained as a public transport corridor and a route for cyclists and walkers.
Economy Secretary Keith Brown said: "The completion of the structure with the last deck being lifted into place will mean that you can now walk from Fife through to Edinburgh on the third of three fantastic bridges over the Firth of Forth.
"We get the feedback from people travelling across the existing bridge who have been watching the development and construction of the bridge and many people are waiting for this last element, this last piece of the jigsaw to complete the structure.''
First Minister Nicola Sturgeon tweeted: "Big day for @NewForthBridge as the final deck section is lifted into place. The new bridge really is an amazing feat of engineering.''