Rail passengers face disruption after Ayr building deemed unsafe
28 August 2018, 16:21 | Updated: 28 August 2018, 16:26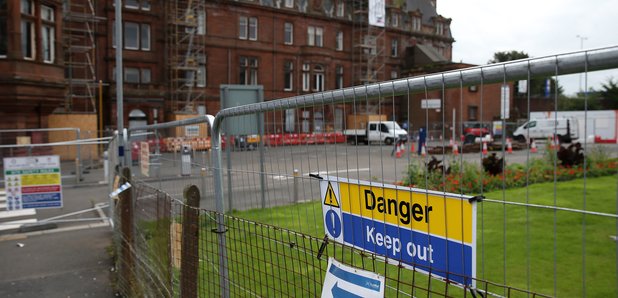 Rail passengers are facing disruption after an exclusion zone was set up at a station due to an unsafe building.
The exclusion zone set up earlier in the year around the former Station Hotel in Ayr was extended after contractors found crumbling and exposed roof areas at the building.
Councillors said the problems "present a significant and immediate danger to people and places around the station" and extended the exclusion zone around the area.
ScotRail said the restrictions will have an impact on services and apologised to customers.
There are no trains running between Ayr and Girvan from Tuesday, while services between Glasgow Central and Stranraer will start and terminate at Kilmarnock.
The company said services between Ayr and Glasgow Central will have reduced capacity because of the restrictions.
ScotRail said: "We've been advised by South Ayrshire Council that an exclusion zone has been imposed at Ayr station, which will have an impact on our services.
"This is because the old hotel building next to the station has been deemed unsafe.
"We are sorry to our customers for any inconvenience caused by this situation which is outwith our control. We are working flat out to get people where they need to be."
South Ayrshire Council issued a Dangerous Buildings Notice to the hotel owners on March 28, 2018 and set up an exclusion zone around the building in the summer.
The B-listed hotel, which dates to 1885, was built by the Glasgow and South-Western Railway Company, according to the Buildings at Risk Register for Scotland on which it is listed.
South Ayrshire Council said it is working closely with Network Rail and ScotRail as work progresses to address the dangers presented by the hotel.
Eileen Howat, chief executive of South Ayrshire Council, said: "Unfortunately, we're having to take urgent action to extend the exclusion zone in place at the station after contractors identified crumbling and exposed roof areas that present a significant and immediate danger to people and places around the station.
"This is not action that anyone is taking lightly, but is wholly designed to keep people safe, and not put them at risk as a result of the failure of the private owner of the building to address the safety concerns we have highlighted time and time again.
"Network Rail and ScotRail have been fully involved in the discussions about this and - as a result - a reduced service will be operating between Glasgow Central and Ayr, supported by rail replacement buses.
"Our priority right now is to continue to work with Network Rail and ScotRail to keep their passengers, staff and the public safe, before continuing discussions regarding the next steps that need to be taken to address the dangers of the Station Hotel building."