Rally In Glasgow In Support Of Grenfell Victims
18 June 2017, 06:02 | Updated: 18 June 2017, 06:23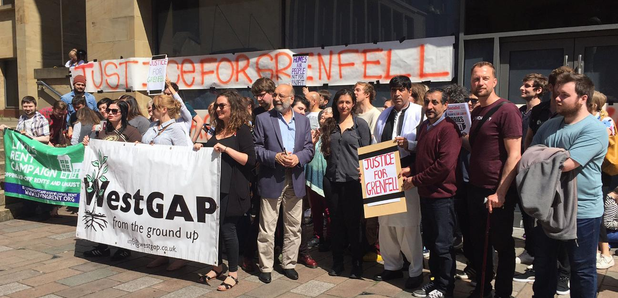 Hundreds of people have gathered in Glasgow to show their support for the community affected by the Grenfell Tower disaster.
An event organised in Buchanan Street saw banners displaying the message: ''Glasgow stands with you''.
A number of speakers addressed a crowd of around 200 people on Saturday, including human rights lawyer Aamer Anwar.
He demanded arrests over the fire, and said: ''The bereaved families need truth, accountability and justice.
''I demand arrests, a criminal trial before a judge and jury and if those who are convicted are convicted then those responsible should be incarcerated for murder.
''It's not a tragedy, it's a crime. The people in Grenfell died because they were poor.''
The Scottish Government has set up a ministerial group to review regulations in Scotland following the devastating tower block fire in London.
Housing associations north of the Border have also moved to reassure residents worried over fire safety.
The Glasgow gathering was organised by Sean Bailey, an organiser from tenants' union Living Rent.
He said: ''From being so far away you can still feel the fear, the grief, the sorrow and the anger over what happened and it's the fact that these tenants' issues had been raised time and time again.
''We want to show that the community around Grenfell have support here, even if they're not getting support from the Government, politicians or the council.
''The people across the UK in places like Glasgow will do our bit and stand up in support (for) their calls for justice.''
Mr Bailey said he hopes the event will send a message ''down to the people affected that we are with them''.
He added: ''Our job is to amplify the anger and the feelings of residents and families affected. We're not trying to create a political narrative from it, but just to support and back them.
''We have our battles up here as well and housing is only going to get worse across the UK unless we stand together and fight back.''