Rennie Calls For Party Leaders' United Front To Back Public Vote On Brexit Terms
27 September 2017, 05:36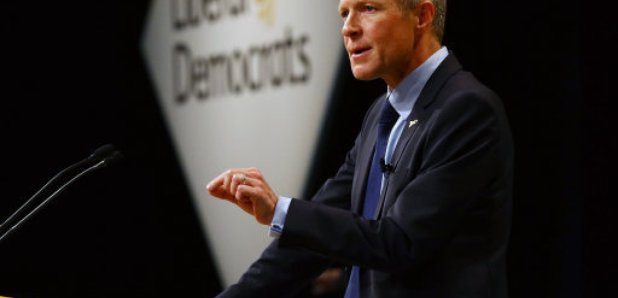 Scottish Liberal Democrat leader Willie Rennie has called on party leaders in Scotland to back a public vote on the final terms of Brexit.
Ahead of a speech in Edinburgh, Mr Rennie said a "united front" north of the border could make the difference as the UK continues to negotiate withdrawal from the European Union.
His previous calls to give the electorate a say on the Brexit terms were rejected by opposition parties.
However at the Liberal Democrats' conference earlier this month, Mr Rennie said he would "open talks with the Scottish government" to win its support.
First Minister Nicola Sturgeon told the New Statesman last week that a referendum on the final deal for leaving the EU "probably gets more and more difficult to resist".
Former Scottish Labour leader Kezia Dugdale has backed another vote if the Brexit deal takes the UK out of the single market.
But Anas Sarwar and Richard Leonard, the MSPs vying to replace her, have both rejected her call for a second ballot.
Mr Rennie was due to address the Scottish Centre on European Relations and Edinburgh University's Europa Institute on Wednesday
He said it would be in the Scottish Government's interests to back the Lib Dems' position.
"They also believe there should be a way out of this if the deal is damaging," he said.
"Their preferred solution was another independence referendum. But they have cooled on the idea as people in Scotland have made it clear that we have settled the independence question.
"Our escape chute of a Brexit deal referendum could therefore be a credible alternative that they could support."
Scottish Conservative leader Ruth Davidson has said she would vote Remain again if there was a re-run of the referendum.
Mr Rennie said: "Ruth has said that Brexit will hit our economy in such a way that we will never quite recover.
"If she believes that, she has a duty to stand up and do something about it."
He also issued a challenge to Mr Leonard and Mr Sarwar: "Tell Jeremy Corbyn he needs to give the British people the final say on Brexit instead of giving Theresa May the authority to make that call.
"With a united front on Brexit Scotland could make the difference. We need to stand together when it matters most."