Richard Leonard: Scottish Labour soon on the side of hope and optimism again
27 November 2017, 13:31 | Updated: 27 November 2017, 13:42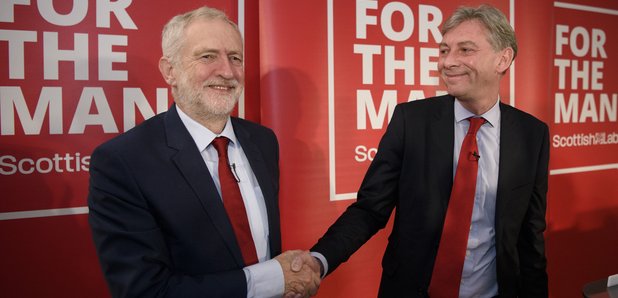 Scottish Labour is starting to reclaim the politics of "hope and optimism" from the independence movement, the party's new leader north of the border has insisted.
Richard Leonard has become the fourth person to lead the Scottish Labour Party since the independence referendum in 2014.

UK leader Jeremy Corbyn previously blamed Labour's slump in Scotland to the party's decision to team up with the Conservatives in the Better Together campaign.

Mr Leonard said those who had fought to keep Scotland in the UK had been seen as being "negative" and were "seen to be on the side of fear", with the pro-Union campaign being dubbed "project fear".

But he argued the "exciting" policies put forward by Mr Corbyn, and his "principled and authentic leadership" after taking over the role in 2015, were turning things around for Labour.

Mr Leonard, who became Scottish Labour leader less than two weeks ago, spoke out as he campaigned alongside Mr Corbyn in Glasgow.

He said: "My reading of what happened in 2014 is that those of us who campaigned for a No vote were seen to be on the side of negativity, were seen to be on the side of fear, and those who campaigned for a Yes vote were seen - fairly or not - to be on the side of hope and optimism.

"I think we are now in a position where the Scottish Labour Party is starting once again to be on the side of hope and optimism.

"Part of the narrative of the 2014 referendum was that we were told that the Tories were going to be in power ad infinitum and the only way to escape Tory Britain was to build an independent state in Scotland."

Standing alongside his UK leader, he added: "This is the answer. Jeremy Corbyn's principled and authentic leadership, campaigning on a manifesto which stood for something clear, stood for something distinctively Labour, stood for something confidently Labour, a manifesto which talked about extending public ownership, which talked clearly about ending austerity and lifting the public sector pay cap.

"A manifesto which talked about a redistribution not just of wealth but of power. These were messages which resonated with people and I think they are the messages we will bring to Scotland and will win people back, some people who have never voted for us, some people who used to vote for us and don't anymore, but they will also re-energise those people who have stuck with us throughout and reach out as well to young people."

Mr Leonard continued: "This campaign we are engaged in is a campaign which is once again exciting young people, a generation that many of us thought were lost, see the Labour Party once more as a radical party, as a visionary party, as a party where they can see their values and principles being lived out and espoused in policy."

But he also told activists that they needed to believe in the Labour Party again, making clear: "Next time we stand in an election, we shall not just stand promising to be a strong opposition, if we don't think we can win how on earth do we expect anybody else to think we can win and vote for us.

"We need to say clearly that every election we go into we are going in to that election to win it and I believe that is credible, I believe that is possible."

Labour in Scotland is currently the third party, behind Nicola Sturgeon's SNP and the Tories in terms of the number of seats it has at both Holyrood and Westminster

Despite this Mr Corbyn insisted a Labour victory in the next general election was "totally realistic", saying the party could "win the support in Scotland to win a general election".

He said he recognised the party could have done better in Scotland in June's snap general election, when it won back six constituencies from the SNP.

"I recognise we could and will gain more seats across Scotland," the leader said.

"But we did gain seats across Scotland and we are going to be campaigning Richard and I together in Scotland to gain more seats in the future."

Critics of former Scottish labour leader Kezia Dugdale have claimed the party would have returned more MPs if she had given more backing to Mr Corbyn and his left-wing manifesto.

Asked about party infighting, Mr Corbyn said: "There's always been debate int he party. There's nothing wrong with that.

"We are a very big party, we have more than half a million members across the UK and we have more than three million affiliated members.

"Don't confuse debate for infighting."

Meanwhile Mr Leonard gave an "absolute pledge to work closely with Jeremy Corbyn in building the Labour Party in Scotland".

In his speech the new Scottish Labour announced he will establish a commission to "review progressive approaches to tax", which will look at issues such as a a wealth tax, a property value tax, and a land value tax, as well as a review of local tax.

He also pledged 12 policy reviews will be set up to develop policy on "the vital issues facing the people of Scotland", such as housing, health and welfare, access to higher and further education and skills training, tackling climate change and a Scottish industrial strategy.

"These reviews will advance our mission to build a new economy and a new society with an expanded public realm," Mr Leonard said.

"This means more ownership and more control for the people in the economy.

"The people of Scotland deserve public services publicly owned and publicly accountable, our railways, buses, energy and water.

"These are the policies we will advance - that start to shift power from the market to working people."