Ruth Davidson: N. Ireland Will Back Gay Marriage
2 August 2016, 19:24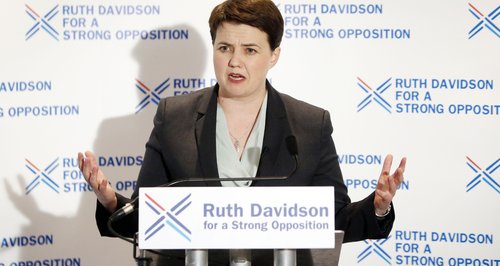 Northern Ireland will soon endorse same-sex marriage as public support and a parliamentary majority overwhelms barriers to change, the leader of the Scottish Conservatives predicted.
Practising Christian and unionist Ruth Davidson recently became engaged to her partner Jen Wilson and has said she would love it if the Church of Scotland allowed her to get married in her own church.
Northern Ireland is the only part of the British Isles where gay marriage remains outlawed, and Ms Davidson insists people living there should be afforded the same rights as everybody else.
She said: "And I believe that time is coming. And soon. With public support and parliamentary majority the waters are building and the dam will burst.''
She quoted Irish Nobel Laureate Seamus Heaney's famous line about a wave of justice rising up.
"I truly believe that tidal wave is set to overflow and that you will, in short order, change history.''
Efforts to lift the prohibition have been defeated five times in the Stormont Assembly.
Although a slim majority of MLAs voted in favour of lifting the ban when it was debated for a fifth time last November, the proposal fell when the Democratic Unionist Party (DUP) deployed a controversial voting mechanism to effectively veto it.
The Democratic Unionists, who represent the largest bloc in the powersharing Assembly at Stormont, have argued that gay couples already have the ability to enter into civil partnerships and the appetite is not there for further change.
Mainstream churches hold that marriage is between a man and a woman.
The Tory leader gave a lecture as part of Belfast's Pride celebrations. She is engaged to a Catholic Irishwoman and was involved in the successful campaign for equal marriage to be introduced in the Republic of Ireland.
She visited a new Belfast mural depicting a married lesbian couple and met LGBT rights activists. The MSP said: "I am a practising Christian. I care deeply about the role of the church in the public realm. I believe passionately that it is a force for good.
"I might not always agree with every intervention churches make in politics, but I defend their right to do so.
"In Scotland, as in other countries, we made sure that as we passed equal marriage, we also protected the rights of religious groups.
"That debate in Holyrood was so mature precisely because it recognised those rights.''
According to the Rainbow Project lobby group, in Northern Ireland, 65% of young gay men say they have been subjected to abuse.
Ms Davidson acknowledged equal marriage will not fix everything by itself; it will not stop the workplace bully, it will not change the unaccepting parent, but she said it will make a difference.
"It will make every couple in this country equal in the eyes of the law.
"In Scotland, when we passed equal marriage, for some people we changed their whole world.
"But for those worried that they were losing the world they knew, their fears didn't materialise. But that doesn't mean their fears weren't sincerely held.
"And we owe it to those who take an opposing view to engage and explain. To discuss and persuade.
"You don't effect change by shouting down your opponents whose votes you need.''
She added: "I don't see why, in years from now, we shouldn't tell our grandchildren about the part that all parties - every party, from both communities - played in making a better Northern Ireland.''