Sarwar Announces Bid To Become Scottish Labour Leader
4 September 2017, 11:03 | Updated: 4 September 2017, 12:05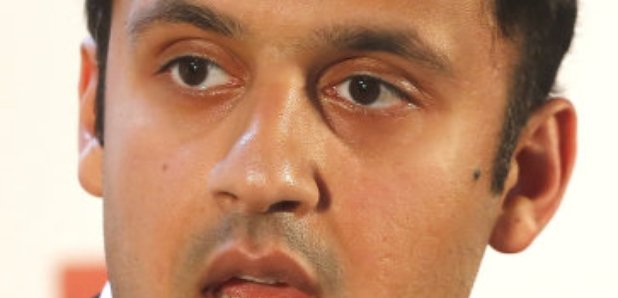 Labour's Anas Sarwar has pledged to "reunite" his party as he announced his bid to become the next Scottish leader.
Mr Sarwar, a former MP who lost his seat in 2015 when Scottish Labour was virtually wiped out at Westminster, is the second candidate to declare in the contest to succeed Kezia Dugdale.
She stood down suddenly last week, leaving the party in Scotland looking for its fourth leader since the independence referendum in 2014.
Richard Leonard, a former trade-union organiser who was elected to Holyrood in 2016, has already confirmed he is running for the job.
Mr Sarwar, who became an MSP last year, said the leadership contest was an election "nobody wanted or expected" after Ms Dugdale dramatically quit the role.
With the party having won seven seats in June's snap general election, compared to just the one it managed to hold on to in 2015, he said: "Labour is revitalised in Scotland and I am ready to unite our party and lead us back to power.
"The people of Scotland do not need a Labour Party that is fighting itself.
"They need a united Labour Party in Holyrood that is fighting the SNP and ready to form Scotland's next government.
"They need a united Labour Party across the UK working together to elect Jeremy Corbyn as prime minister."
As well as being Labour's health spokesman at Holyrood, Mr Sarwar is also a former deputy leader of the party north of the border.
Glasgow MSP Pauline McNeil and East Lothian MP Martin Whitfield will jointly run his campaign, with Mr Sarwar pledging: "Over the coming weeks I will set out my positive vision for Scotland's future, rooted firmly in Labour's values."
He also thanked the "many friends and colleagues" who had urged him to put himself forward for the leadership.
Ms McNeill said: "Anas has the experience and energy to take on the challenge to transform us from being an opposition party to being the next Scottish Government.
"I know he can unite our party behind our common aims and socialist values by addressing the deepening inequalities that prevail across the country.
"We will run a positive and constructive campaign, and we will focus on the battle of ideas and issues our party needs to be at the vanguard of."
Like Ms Dugdale, who campaigned against Mr Corbyn in the last UK Labour leadership election, Mr Sarwar is regarded as a moderate within the party while Mr Leonard is more left-wing.
Mr Leonard claimed Scottish Labour failed to capitalise on a so-called ''Corbyn bounce'' during the recent general election.
He said the UK leader's growing support during the campaign was not noticed and acted upon quickly enough in Scotland, arguing Labour could have enjoyed more success north of the border if it had aligned itself more closely with Mr Corbyn.
Speaking on BBC Radio Scotland, Mr Leonard said: ''There was an opportunity, I think in all honesty, the Scottish Labour Party missed.
''I think there was a Corbyn bounce, I don't think it was picked up soon enough and acted on quickly enough in Scotland.
''I think if the Labour Party in Scotland had properly understood what was going on and reacted to it, I think that there would have been the opportunity for even greater success.'
''I think we should have used the opportunity of Jeremy Corbyn's growing popularity in that election to knock on more doors to get across the Labour message and I think to get away a bit from the entrenchment in constitutional politics which we found ourselves in.''